Gang aft agley – Drug Policy – Not adding to the tally – Perturbations
I am very happy that my parents were able to visit us here in Peru. But as I write this we are not with them – they are in the flatlands of the Peruvian coastal desert and we are in the heights of the Colca Canyon. As much as they would like to come to the Colca, they cannot, because in Daddy's opinion he is suffering from the effects of altitude. Hence they have fled, for now, to sea level for "personal reasons". Not a drastic situation, but an example of the best laid plans gang aft agley…
As the political situation in Bolivia continues to be tense we have made the decision to not visit the Andean country during this trip. Unsurprisingly, the U.S seems to be a subject of ire, mainly for its drug policies that mandate an elimination of coca cultivation. Our friend from Bolivia, Arnie Lopez, advised that no U.S passport holder visit for the time being and since the situation is not likely to improve anytime soon we will have to leave Bolivia for another day.
Bolivia has so much to offer the tourist – La Paz the highest capital city in the world, the mining town of Potosi, colonial Sucre, Jesuit Missions of the east, and the amazing salt flats of Salar de Uyuni. It was a deep disappointment that we could not go, but driving around in a large conspicuous automobile among a rioting populace did not seem like a prudent course of action. It is best to avoid riots altogether, but in the unfortunate event that one finds oneself in one, it is best not to standout. Having seen several riots up close and personal, I do not feel a need to add to that tally.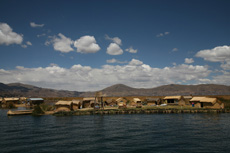 I really dislike having to change my plans, especially after I have spent so much time developing them. I usually charge ahead, come hell or high water, and do my best to achieve the goal that is the result of such careful planning. Most of the time this approach has worked for me, but on occasion I have paid the price for such bullheadedness and not having taken into account changing conditions. When conditions change the plan needs to be revised, or altered, or scrapped altogether, based on how big the change is.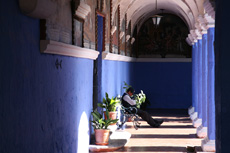 As far as perturbations go this is a small one – Bolivia can easily bypassed by going further down Chile, to San Pedro de Atacama, and then to the city of Salta in Argentina. But there seems to be more turbulence coming our way, mainly in the form of the failing world economy. What changes in plans will we have to make to accommodate this new uncertainty? Will we have to wrap up the trip as soon as possible and come back to the US to prepare for the coming storm? Or do we stay in a low cost part of the world such as where we are now to ride out the economic waves and cycles that seem to be headed our way?
Right now it seems like an overreaction to panic to abandon our trip and come home; maybe if we give it a few months things will sort themselves out. If they don't… well… our next address could be Barichara, Colombia…