Eager helpers and delinquents – Fumigation – The rogue Lester – Howling winds – Muddy white waters
"Guide? Guide? You need?" We were being besieged with faces of every size and shape pressed on windows on both sides of the car by individuals eager to help us, for a tip, of course. Meanwhile the efficient immigration officer was bravely trying to shout above the din to give us the correct information – for no fee.
One of the most annoying aspects about taking our car on this trip has been the process of crossing international borders. Charlatans, urchins, rogues, loiterers, and delinquents from the entire country seem to collect here to try to con the harried tourist. I suspect that the fear of border crossing procedures keep a fair amount of motorists in their home country.
The procedure to enter a country is relatively straightforward; clear immigration and get a temporary import permit for the car, get it fumigated and buy the "obligatory" insurance if required even if you are already insured. Most crossings take about 45 minutes to an hour, however, we often hire a "guide" just to keep all the other would-be-guides at bay.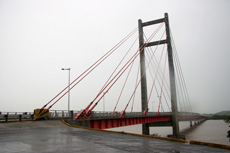 The crossing from Nicaragua into Costa Rica is known to be one of the worst. It took Dave from Expedition Americas six and a half hours to cross, mostly waiting for officials doing nothing. The rogue of the day was "Lester", whose modus operandi was to keep the tourist so harried that all analytical thinking would come to a screeching halt. He cheerfully maligned the Nicaraguan police, the customs and the immigration, claiming bribes or inefficiency at every turn while the poor officials were calm, courteous and efficient. Failing to extract any fake bribes from us, he then proceeded to turn up his nose at the two and a half dollar tip for doing absolutely nothing.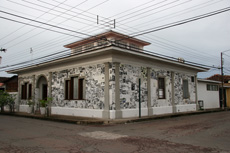 "Pura Vida" is how Costa Rica greets you – with smiles, a beautiful countryside and "con mucho gusto" for every service. This time however, we were greeted by a torrential downpour instead of the brief afternoon showers common to Costa Rica. At Samara in the Nicoya peninsula, we were deluged. Howling winds cut power lines and caught the locals completely unprepared. Our rather nice hotel, run with German efficiency, was without water or electricity. The owner was nowhere to be seen and no-one seemed available to solve our problems so I took the initiative and filled our jerry can with water from the pool for the flush, reminiscent of Hotel Rwanda. No restaurants were serving, except for one whose Italian owner had the foresight to install a generator. Naturally, he did rather well that night as the whole town showed up to eat there.
Swollen River Devours Trees
As we beat a hasty retreat from Nicoya with its Hotel Rwanda and no electricity we were treated to awesome displays of flooding rivers and landslides. Huge trees were scraped off the riversides and sucked into the turbulent brown waters and the air was redolent with the sour smell of churned clay. Motorists stopped to watch the spectacle and after seeing the furious water wash away soil around the bridge support we decided that the wisest course of action was to watch from a riverside restaurant instead of from the bridge…