Recoleta – a Parisian lunch – the grand cemetery of Granada (Map this!)
I love visiting cemeteries. After seeing Recoleta in Buenos Aires I was hooked. It is amazing to see the grand structures that people build for their dead, elaborate memorials with statues, stained glass and Corinthian pillars. I remember the time when a peaceful walk in the Père Lachaise cemetery in Paris was the perfect ending to a wonderful four hour lunch at the Taillevent. I remember with delight the unsuspecting discovery of the grave of Fibonacci in Campo Santo in Pisa. Even in India, where the custom of burying the dead doesn't exist (among Hindus), there are grand memorials to dead and vanished kings. Visiting the beautiful "chathries" of the golden city of Jaisalmer during sunset to the strains of the hauntingly beautiful local folk music is an unforgettable experience. And of course, the Taj Mahal stands as the ultimate memorial to the dead.
So when we passed a grand cemetery in Granada, I really wanted to visit it – even though there isn't a mention of it in our guidebook.
Granada is beautiful. A colonial town on the shores of Lake Nicaragua, with its main plaza dominated by a grand cathedral painted yellow with white trimmings. (My only complaint was a faint smell from the open sewers). Although not on par with the great colonial cities of Central America such as Oaxaca in Mexico and Antigua in Guatemala, it does nevertheless appeal with its numerous churches, gracious internet cafes and lovely old hotels.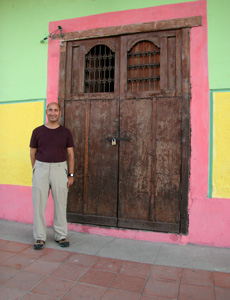 But for me the highlight was its cemetery. Although we caught only glimpses of it due to lack of time, it seemed enormous, with its own chapel inside. Shreesh is particularly fascinated by histories of people that you can learn from cemeteries. He was puzzled to find a large number of young people in their twenties buried in the eighties, until we realized that it was the year of the Sandinista revolution. Elaborate structures dominated by domes, crosses and biblical figures housed graves for specific families. Although we couldn't recognize famous names like Evita in Recoleta or Rossini in Père Lachaise, I am sure that some of the more famous colonial figures are buried there.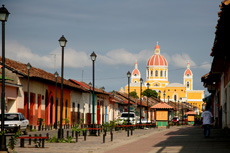 Whenever we see old ruins, cemeteries or cathedrals, I have to remind myself that the structures we see are of the rich – the houses of the Mayan nobility, the grand palaces of kings and the elaborate graves of the rich. The mud and thatch houses of the poor have been dissolved by time and left to the imagination. Ironically, we found that it is the poor who have survived; the kings were executed, the nobility dissolved and the traditions live on in the common folk in the villages.