Life in the city – Waiting to board in Panama City.
We are both city people. When people ask me "Why do you like the city? It is so crowded!", I always find it hard to answer. It is precisely that crowded hubub that I like, almost like being part of a living organism. I cannot explain the thrill I experience by the sights, sounds and smells of a living city, the feeling of belonging to a huge social entity, the cafes, the bookstores and the history around me. I feel comfortable in the city, in the knowledge that I can walk to Italian class, I can stroll to a theatre, I can enjoy North Beach in the early morning with its colorful residents before the tourists descend. And I derive comfort from the lights flickering in the tall buildings, each window promising a hum of human activity.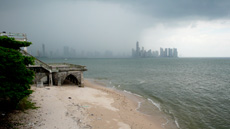 This is what comes to mind as we wait in Panama City to ship the car to Colombia. Panama City doesn't chalk up a lot of points as a tourist destination. The city itself has few points of interest, the star attraction being Casco Viejo or the old city, which is a World Heritage site. Casco Viejo is on its way to becoming a Destination. Here crumbling and run-down houses mingle with fabulous ruins and restored mansions from the colonial times. Judging by the construction going on, in a few years it will be another Antigua, only better due to its proximity to downtown.
Close to Panama City, of course, is the BIG attraction – the stupendous engineering feat of the Panama Canal joining the Atlantic Ocean to the Pacific. The canal zone is surrounded by rainforests necessary to maintain the watershed required for the workings of the canal. Around Panama City there are enough nature preserves and lodges to keep you occupied for a week or more.
But I find myself enjoying the city itself. It may not have world class museums or opera theatres, but it has all the hallmarks of a City – services are within walking distance, there's traffic, people, tall buildings and chinese restaurants around the corner. I am enjoying the break from being a tourist and reverting back to "normal" life for a while. We run errands, find good places to eat on Chowhound or see a movie at night without worrying whether there will be a taxi available to take us back to the hotel (there always is). We find good wines. We walk everywhere.
When we plan a vacation for three weeks, we eschew anything similar to our life in San Francisco. But after having been on the road for a while, we crave the familiar. Panama City is no San Francisco. But for a short period of time, it will suffice.