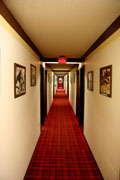 Start of the Dempster – We reach an "oasis". (Map this!)
I have always loved reading travel authors – Peter Matthieson with his lyrical writings, Tim Cahill's, outlandish adventures, Gerald Durrell's expeditions collecting animals for the zoo. A few years ago, I picked up Bill Bryson. Although I believe he owes his popularity to his humor and wit, I find his traveling style admirable. In the book "In a sunburnt country", he relates his travels to various towns in the outback in Australia. In these middle-of-nowhere towns, however small, he finds something interesting enough to write about. I learnt from him that every little nondescript town has some history to relate and most probably a museum where they want to talk about it.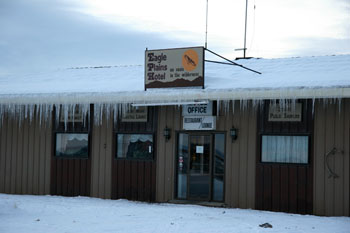 I was reminded of him tonight at the Eagle Plains Motel, at km 369 of the Dempster Highway. Having been forewarned by a Dawson resident that it reminded her of "The Shining", we arrived to be greeted at the motel by taciturn (but polite) motelkeepers. The hotel feels like an eccentric museum, decorated in dark colors with long corridors. The walls are decorated by huge mooseheads, caribou heads and bearskins. The dining room and bar is hung with pictures telling the story of the "Mad Trapper from Rat River (1931) – his manhunt and eventual death at the hands of the RCMP (Royal Canadian Mounted Police). His death mug shots are proudly displayed at the entrance to the bar. Also lining the walls are stories of dog sled patrols, of introducing reindeer to the NorthWest Territories to help counteract the failed whaling industry and other such equally harsh tales of frontier life.
(For Shreesh's infinitely more sinister description of the Eagle Plains Motel, click here).
Shreesh and I often find ourselves wondering, "Who lives here and why?" Why would anyone live at Eagle Plains, a motel so remote that it has to be self sufficient with electricity, water and TV – with no community to speak of and that gets bitterly cold most of the time?

7 Responses to "An oasis on the Dempster(?)"