There is not much to do in the small hamlet of Inuvik. Going to a very invigorating mass at the Igloo Church. (Map this!)
The Peel river politely froze over so we could drive across, but the MacKenzie refused to cooperate and our forward progress was halted at Fort McPherson. We had almost given up on reaching Inuvik until a last minute call to North Wright Air secured us two seats on their British Norman Islander to Inuvik. So it has been a long drive and a wee flight.
The weather in Inuvik was a balmy two degrees Fahrenheit and the locals were overjoyed with the warm spell. Neena and I, on the other hand, turned into human ice cubes on a walk to the MacKenzie river. Indoor activities were very attractive and when we found out about the mass at the Igloo Church we jumped at the chance.
The Igloo Church is a Catholic Church and I have been grumpy with the Catholic Church since the selection of Cardinal Ratzinger as pope. His conservative philosophy and hard line positions point to a smaller, less inclusive, and more zealous church. It would seem that the Catholic church is to become, well, less catholic…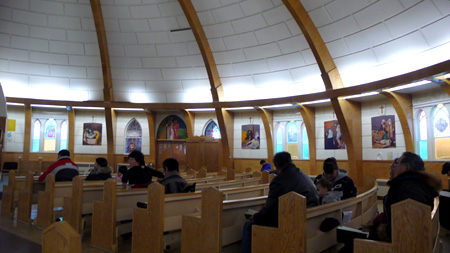 The deacon greeted everyone who entered with an infectious smile. The 'choir' was a country music ensemble belting out twangy vocals with an informal air and the entire atmosphere was so welcoming that we were immediately at ease. The deacon apologized that the priest couldn't come and started talking about his God. His God, he said, was a voluptuous and delicious God, not one that punishes because you don't follow some obscure and ill-defined rules. He talked about letting go of your old comfortable habits to try something new and challenging. "Climb that tree high, and look around to see where you are and where you can go". He also quoted Nietzsche, he of the God is dead fame.
How different and wonderful the Igloo Church was compared to all those serious and dour-faced priests we listened to on the Camino Santiago. Lot of what he said resonated strongly with me since we are in the very process of taking stock of where we are and what to do next, to build our resume of life. The Catholic religion is vast, for every dour St. Augustine there is a refreshing St. Francis.