The ruins of Monte Alban provide opportunities for reflection. (Map this!)
The cultural destruction by the Spanish has been so complete that even the original name of Monte Alban has been lost in the mists of time. Above the city of Oaxaca, in an incredible engineering feat of the time lie the ruins of Monte Alban, once populated by 25,000 – 30,000 souls. First settled in about 500 B.C. the city reached its zenith between 500-750 A.D, before being abandoned.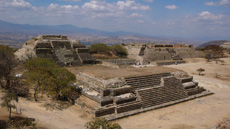 The ruins speak of an alien Mesoamerican life, that of pyramids, of ball-courts, of enigmatic stelae. The Mexican archeologist Alfonso Caso did some of the first and most extensive research on the site and his conclusions are boldly pronounced throughout Monte Alban on tiled stone tablets. Since almost all of the information about who these people were has been destroyed by the Spanish so there will always be a sense of ambiguity and mystery about Monte Alban, unless through some incredible luck a trove of undiscovered Zapotec codices come to light. Notwithstanding that sweet dream, everyone will be free to make their own interpretations and let fly their own colored birds of fantasy.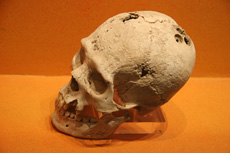 It was mighty hot on the day we visited Monte Alban and although we felt bad for the octogenerian guide we did not feel bad enough to cough up his exhorbitant forty dollar fee. It is a mystery how so many people lived in such a desolate place with little or no water but perhaps conditions were different when the city was founded. The easily defensible hilltop location and carvings denoting gory scenes point to a war-like society but one that practised surgery such as trepanation.
Sometime between 500-1000 A.D. Monte Alban was deserted and several smaller states around the Oaxaca Valley became ascendant. The city without a name that is known today as Monte Alban faded into history until it was "discovered" centuries later so that American tourists can now marvel at it. The center did not hold.