A hiatus in the hometown – Our journey South begins.
The hiatus in San Francisco passes by in a flurry of activity. We buy things, we make calls. The Northern trip exposed logistic gaps that we take care of. The FJ goes to one shop to get new lights installed; I go to another to get a haircut. We meet friends. Normal, mundane things of everyday life; mixed in with the unusual enquiries like how long we can keep the car out of the country before it is considered exported. (The answer is as long as we like, as long as it stays registered).
We are hosted by our good friends Fred and Ada whose lives get invaded by us and our chores which they graciously help with. Shreesh's parents arrive from Minneapolis to join us in our Baja adventure. We leave on the 15th, on schedule but having, sadly, discarded our idea of taking our bikes with us.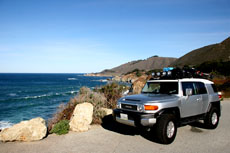 The FJ is packed to the hilt but is surprisingly easy to load and unload. We are armed with cautionary and blood chilling tales of Baja. The books, TV, friends – all tell us to beware of banditos which Tijuana is apparently crawling with. So we are really happy when absolutely no-one stops us at the border. In fact, we are so relieved that we sail through and keep driving without looking back. We get to Ensenada and stay in a lovely spa on the beach. Our serenity is shattered when we find out that we had to get our tourist cards at the border as well as a "temporary import permit for the car". oops! After multiple unhelpful inquiries, we are almost ready to go back to Tijuana, when the Banjercito (these are the people that KNOW) informs us that we can get the import permit in La Paz and the tourist cards here for a small fee. Hope he is right.
The bright side is, the margaritas are simply amazing!