Living in the moment. The jungle claims Calakmul. The past is forgotten. (Map this!)
For several days, I have been thinking on and off, about the comment Jan made about living in the moment. I was first introduced to this theme when I was studying Sartre several years ago, about our relationship to the past and to the future. What are these places, the past and the future? The future is a fictitious place that can never be reached because it always lies just beyond our realm, our event horizon. The past is an even stranger place, crudely drawn from our very imperfect ability to remember it. It may not even exist at all, as a perfectly consistent world view can follow from the proposition that the world is only five minutes old, brilliantly constructed to appear as if it is billions of years old. Or, for some, 6,000 years old.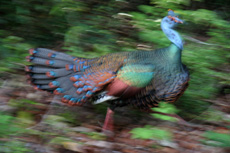 The only time we can have any degree of certainty about is the moment we are living in. The time is always NOW! But, somehow, anxiety and expectation about the future and regrets and triumphs of the past color our experience of the moment. How can I free myself of these shackles and enjoy the very "now-ness" of time? Even the previous statement shows coloring of the future, it shows an expectation to "enjoy" the moment, rather than just "be", let it just pass over like water.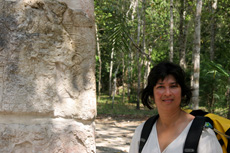 The ruined Maya city of Calakmul takes some effort to visit and a degree of roughing it while there. A huge center in its day, archaeologists have identified over 7,000 structures scattered throughout the humid jungle, including two massive Peten style pyramids that have been excavated. Calakmul fought and defeated some of the more well known Maya cities including Palenque and Tikal and extended its control over a vast region with a combination of alliance and war. Their buildings exude pride and permanence, how many of our buildings today would last over a thousand years without maintenance?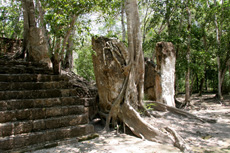 Calakmul today is largely jungle, visited by the occasional intrepid tourist willing to suffer a little. Suppose that a resident of Calakmul from its heyday were to be transported here to see the crumbling buildings claimed by the trees and obliterated stelae featuring forgotten personages. Now suppose that he is transported back with the knowledge of Calakmul's Ozymandian fate – would he work just as hard to preserve a legacy destined to be largely forgotten? Or maybe he might attempt to live more in the NOW, since that is all there really is? Calakmul is a living example that the past is destined to be forgotten, and the future never is as it is predicted to be.