Incorrect assumptions about dangerous roads. Incorrect assumptions about the peaceful Maya. A visit to Yaxchilan and Bonampak. (Map this!)
The road to Yaxchilan and Bonampak winds through territory heavily controlled by the Zapatistas. Our host recommended that we take the 6:00AM convoy for the sake of security and the Rough Guide mentioned that armed robberies occur on this stretch of road. Since it was next to impossible for us to leave at the wholly uncivilized hour of 6:00AM and we decided to drive unescorted. For long stretches ours was the only car on the road and at times the solitude was creepy and nerve-wracking but in the end we realized that our preconceptions about this area were quite wrong. It was completely safe – the most dangerous part of the journey was the ungodly amount of unmarked topes (speed-breakers).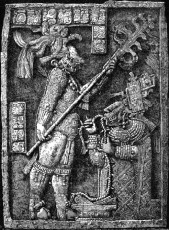 In the early part of the study of the Ancient Maya there was a myth of the peace-loving idyllic society. It is unclear to me how this idea developed but I think it was based on the fact that contemporary Maya were gentle folk. Both these sites emphasize the danger of unfounded preconceptions and each in its own way was responsible for destroying the myth of the peace loving Maya.
Yaxchilan is located at a sharp horse-shoe bend of the Usumacinta river and can only be approached by boat. It is much larger than Bonampak and played a significant role in Maya history during the Late Classic period. The best artwork has been looted to the British Museum but what remains is still spectacular. The carved lintels tell tales of bloody sacrifices and acts of dominance. For example, Lintel 24 shows the powerful king "Shield Jaguar" presiding over a bloodletting ritual where his wife, Lady K'ab'al Xook, pulls a thick rope through her tongue. The blood is then burned as an offering to the gods.

Bonampak is small for a Maya site but hosts many visitors because of its excellent murals. It is a shame that after being preserved in excellent condition for a thousand years they have faded significantly in the last forty since discovery. Painted in a series of three rooms they depict the celebration of a royal birth, the treatment of prisoners, and ritual bloodletting as gratitude for victory. The prisoner room is striking with the severed head of a captive rolling down a set of steps and a vanquished enemy looking in horror at his ripped out nails.
So, with these discoveries, especially those in vivid technicolor at Bonampak, the myth of the peaceful Maya seemed to be just that – a hopeful myth about finding a human society different than ours, one that was better than ours. But in fact it is simply a mirror showing that power accumulates in the hands of a few rich individuals, that the strong will subjugate the weak, and that the victor will show no quarter to the vanquished.