A discussion about luxury foods, using chocolate as an example. A recipe for a mighty nice cup of chocolate.
The earliest known consumption of chocolate is from a site close to Puerto Escondido, in the state of Oaxaca, so it is not a matter of surprise that it is in Oaxaca that it reaches lofty heights not found elsewhere. The variety of uses and types available are simply staggering. In this post I submit that it is Oaxaca and not Belgium that makes the finest chocolate and I will elaborate a recipe for the best cup of hot chocolate you have had in your life.
How did this wonderful homey ingredient become such a luxury item? Even now mention that you are having chocolate and people will likely give you knowing looks of decadence – as if to say "Ohh, how lucky to be indulging in this pleasure". You would never get the same reaction if you were to say that you are going to enjoy some potatoes, or carrots, or peas. Thinking of a food as a luxury item can increase the value of the experience but many times it relegates it to special occasions – how many people enjoy Champagne on a regular basis?
The concept of a luxury food is an interesting one. What makes one taste experience better than another? The more complex the experience the better – a fine Indian curry versus boiled African beef. Stronger is better – the strength of garlic versus the blandness of milk. Texture figures as well – crunchy potato chips, airy soufflés, and creamy sauces. But the most important determinations are rarity and cultural preference. In Maine, around the turn of the nineteenth century, lobster was so plentiful that inmates from state institutions dined on it regularly. It was considered "inhumane" to feed an inmate lobster more than twice a week. Cultural preference can sweep away individual preferences – how often one hears "Its an acquired taste."
In Mexico chocolate is put to many uses. Famously, it is used in Mole Negro which serves as a rich sauce for chicken or as a filling for the traditional banana leaf wrapped tamales. Dissolved in a frothy cup of milk, hot chocolate makes for a tasty snack any time of the day. It even finds itself in Tejate, a refreshing corn and chocolate drink for hot afternoons. It is not unusual to eat chocolate not only everyday but multiple times a day. I have never eaten as much chocolate in my life as I did in Oaxaca.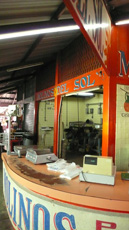 In Oaxaca I prefer to have my chocolate ground and mixed to my specifications. According to Yolanda, of Seasons of My Heart, an artisanal cacao bean will have a rich taste with a slight acidic tang due to the fermentation. A stick of canela (cinnamon), some almonds, and sugar makeup the rest of the ingredients. My chocolate has 500g cacao beans, 1000g sugar, 50g almonds, and one stick of canela. The molinero will grind it all up for you and present you with a warm mass of chocolate. Important: Pat out your chocolate into a plate and score it when you get home or else it will become very hard to cut!
Now for the part you have been paitently waiting for – the finest cup of hot chocolate you will ever have. The recipe was inspired by a cup of chocolate I had on a rainy day in an Italian hill town in Tuscany where I had the finest cup of chocolate in my life. Since that day, almost eight years ago now, I have been looking for a way to make that rich cup of hot chocolate. Countless cafés and copious experiments came to nada, zippo. So it is only fitting that I discovered the secret in the birthplace of chocolate. Properly made it will have a consistency between that of a souffle and a pudding, with a rich heady chocolate taste.
A churning tool is required for the recipe, without it there is no hope for success. There are only two ingredients: Chocolate to taste (preferably Mexican) and whole milk. Do NOT substitute skim, 1%, 2% or any other processed milk, the recipe will not work. Bring the milk to boil, stirring on occasion so that it does not burn and stick to the bottom. Turn off the heat and introduce the chocolate. Using your churner make sure all pieces are dissolved and whip up the mixture to a velvety texture, in between a souffle and a pudding. You will know you have reached the point when your churn feels a little bit of resistance. You may have to reheat the chocolate at this point as it may have cooled off. Relax and sip carefully as the liquid has a tendency to get extremely hot.