My fight against onychophagia (nail-biting)
I realized just the other day that I need to cut my nails frequently on this trip. This is not exactly an epiphany, but the odd thing is, in San Francisco I rarely needed to. Whenever I looked at my nails they were bitten or picked down to the skin and no amount of self reprovals helped wean me from this habit. So I contented myself with filing them down so they wouldn't look so ugly.
Nail-biting (onychophagia) is a common stress-relieving habit. You may bite your nails in times of stress or excitement, or in times of boredom or inactivity. (Yahoo Health)
Most nail biting is merely a bad habit that most people eventually break. But constant, severe nail biting can be a sign of anxiety or compulsive behavior. In such cases, you may consider consulting your doctor or a mental health professional for further evaluation.
(The Mayo clinic)
Eek!
Lets examine some of these causes as they may relate to me:
Stress – The most common cause attributed to nail biting seems to be stress. Having avoided taking on managerial responsibilities successfully in my life, my jobs weren't very stressful. Challenging yes, stressful – rarely. That's what you delegate up. Some people actually think that being on vacation is more stressful. Certainly one of the most stressful moments of my life was packing up the apartment.
Excitement – On the job? Rarely. On vacation? All the time.
Boredom or inactivity – They may have something here. Jobs can be repetitive and boring, specially in these extremely specialized times when you can't deviate from your well defined pattern.
Anxiety or compulsive behavior? – What's the cause of more anxiety – living your life according to a well defined routine in a job you know how to do well among friends and family that you know well? Or to move to a different place every new day in a foreign country where they speak a different language; where you have to go on an expedition to find a laundry or a pharmacy or even an ATM every time you need it?
Relaxation – I added this one because the fact that we are on vacation should mean we lead a more "relaxed" life. Lets see – I am reading a pedantic tome on the history, culture and architecture of the Maya, I spend a significant time maintaining the blog, I pay bills and track the budget as usual. Windows and my DELL laptop breaks more often than I would like. And sometimes we attend intensive Spanish courses where you spend at least 7 hours studying one way or the other. And oh yes – ordering even a cup of coffee requires mental focus to use the normal conditional form correctly.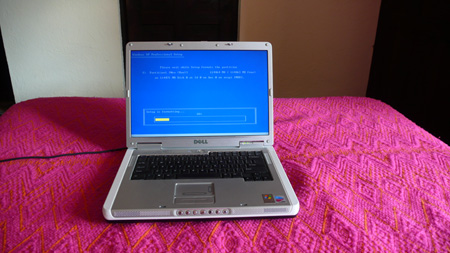 So our life is no more relaxed or easy than it was in San Francisco, it is as hectic as usual and we have more things to do than we have hours in the day. Maybe it is the fact that we work when we want to on whatever we want to; the end result gives us creative satisfaction (as in the case of writing the blog) or delights us with new information (as in the case of learning Spanish or reading about the Maya) so there's more "job satisfaction". Maybe my mind is too busy processing all the new input to remember to bite nails. Or maybe its just the fact that we're way too busy! So my remedy for nail biting? Take a long vacation!