Recoleta – Real estate of the dead – A deadly Merry-go-round – Rest-in-peace? (Map this!)
"La Recoleta" is a famous barrio, or neighborhood, of Buenos Aires. It brings to mind old and lofty mansions, dignified open air cafes and the exclusive cemetery of Recoleta.
Jorge Luis Borges, in his poem about the cemetery of Recoleta, mentions the "dignity of death". We visited the cemetery in the early hours of the morning, when no-one was there save for a few workers. Wandering among the still-dark and ornate sepulcres lit up by the early rays of the sun and stained glass, it certainly seemed so – peaceful and permanent.
Later, once the peace was disturbed by the harsh light of late morning and tourists, we took an official tour. This was when we discovered the true reality of Recoleta, that "Rest in Peace" was only temporary, ruled by the vagaries of fortune. These mausoleums, lavishly adorned with stained glass windows, elaborate statuary and elegant structures born from fertile imagination, are bought and sold on the real estate market. And when a mausoleum is sold, everything has to be emptied out, including the poor souls "resting in peace".

Borges used to live in the Recoleta, not too far from the cemetery. Here, in an imposing old building, he almost died climbing the stairs. He called Recoleta the "place of his ashes" but is not buried there. In the last few years of his life, he returned to Geneva, where he had also lived as an adolescent. He is buried in the Plainpalais Cemetery in a simple grave.
The dead at Recoleta have been moved for reasons other than profit. In the twentieth century, a drama played out in Recoleta with the body of Gen. Pedro Aramburu, one of the leaders in the miltary uprising against Juan Perón. Fearing that the leftist Peronistas would regroup around the embalmed and almost sanctified body of Eva Perón, Gen. Aramburu supposedly orchestrated its removal from public eyes. Evita's corpse initially toured the homes of various military personnel, then embarked on a transcontinental journey until she was finally buried in Italy under a false identity.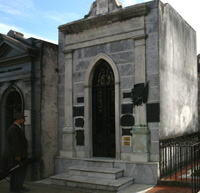 Fast forward to the return of Juan Perón to power. By this time, Gen. Aramburu had been kidnapped and assassinated by the Montoneros, a left wing Peronist guerrilla group, and his body was supposedly resting in peace in the Recoleta cemetery. The Perón supporters, upset that Evita's body was still touring Europe, stole Aramburu's body and vanished into the night. After a successful bargain of "a body for a body", both were eventually returned and currently (and hopefully, permanently) rest in peace at Recoleta.
And now it seems that Borges' sojourn in Europe may also end. Recently, a proposal to move Borges' body from Geneva to the family mausoleum in the Recoleta has been put before Congress. This brings to my mind lines written by Borges,
milagro incomprensible,
aunque su imaginaria repetición
infame con horror nuestros días.
– Jorge Luis Borges, "La Recoleta"