Black Sunday- Gasohol – Blue Monday – Goodbye to Brazil. (Map this!)
Nov 23rd, 2008: Black Sunday. Today was the worst day on our trip. Today, we found out that highest grade Brazilian gas that we have been filling in our car contains more than 20% (23%, to be exact) alcohol. This much alcohol can be damaging to the car's fuel system and can cause major problems like fuel pump malfunction. So, we have decided to abandon our grand Amazonian adventure and leave Brazil by the shortest route.
In Guaranta do Norte, we were on the footsteps of the Amazon. We could see the dirt road that was to be our path through 700 miles of the Amazon jungle. Armed with hammocks and mosquito nets, water and food to keep us for a few days in case we were stranded and three bottles of insect repellent, we were ready to tackle anything.
This trip has been frought with difficulties. The rainy season has started, so the roads are muddy. We couldn't find malaria prophylactic in Cuiabá, the last big city in Mato Grosso. (Malaria is prevalent in the jungle). Now this. We aren't sure just how much damage such a high quantity of alcohol will cause, as no-one has tried it. We could go ahead with our grand adventure but this could put the larger goal of reaching Tierra del Fuego at risk. We decided to abandon ship.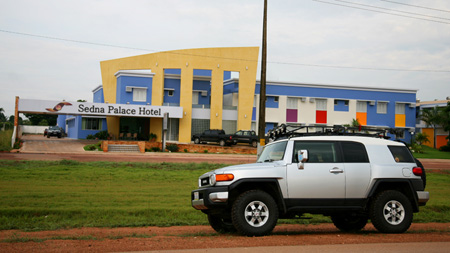 Nov 24th 2008: Blue Monday. We turned around and started south again towards Argentina. Brazil has been such a wonderful country. With its soft spoken and friendly people, with incredibly green farms stretching out to the horizon, with its melodious language. Brazil has been a joy to drive through, almost any city you stop at is guaranteed to have a nice hotel with AC, TV (if you care) and internet (which we need). Its lanchonetes (pronounced lanshonesh) and restaurants (res-tau-ranjes) with their amazing buffet spreads make stopping for lunch easy and quick. Its gems like the Amazon river, Salvador de Bahia and Bel&#233m which we will not see this time around.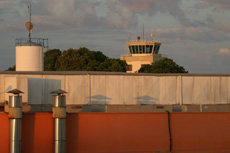 Tomorrow we will see the bright side. We will form alternate plans to see at least Rio somehow or visit friends in Petrópolis. We will be happy to be in Argentina, the friendliest country (after Colombia) in South America, with its wine and great food. We will remember that we are on vacation on a trip that is the envy of a lot of people. But that's tomorrow. Today I am sad.
Até Logo, Brazil.