City of God – Violence – A paradox – "Middle class" favela – Drugs and guns – A civic challenge. (Map this!)
The very name "Rio de Janeiro" conjures up visions of gun-touting hoodlums, cars running red lights for fear of stopping and a population terrorized by the vast disparity between classes.
This viewpoint is based on travelers' accounts, who seems to love Brazil inspite of it. The movie "Cidade de Deus" or "City of God" did nothing to dispel this, showing Rio de Janeiro to be a city of murder and mayhem. (I do love the movie). It depicts youngsters with guns, drug lords ruling domains larger than a mid-size city and residents living in a war zone.
This tarred image seems to apply to all of Brazil, so we were fully expecting to be on tenterhooks all the time while visiting, Guatemala style. However, we found the Pantanal and the western states of Brazil to be quite tranquil, with no more precautions required than the normal ones we take with ourselves and the car in any other country.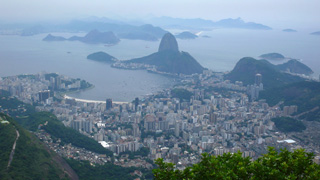 But back to Rio. The film "Black Orpheus" or "Orfeu Negro" shows another side of Rio and the favelas – the sense of community, a joie-de-vivre and music. Most samba schools are to be found in favelas. Residents of Rio describe the city as a paradox. On one hand, it has breathtaking scenery with islands, cliffs and golden beaches. On the other, swathes of tall, imposing skyscrapers on beautiful, sandy beaches march hand in hand with unpainted brick buildings of the favelas growing higgledy-piggledy on the hillslopes. The superimposition of this contrasting social phenomenon is amazing, from a viewpoint high above the city it is very easy to tell which one is which.

Out of curiosity and a feeling that favelas are an inseparable part of Rio, we took a favela tour of the biggest favela in Rio, Rocinha, with 60,000-90,000 registered inhabitants. This favela is a "middle class" favela, with doctors offices, regular shops, streetside vendors and middle class tenants in abundance. A big road leads into the favela, and when you first enter the area it looks like any third world country. India, Peru, parts of Mexico – all look like that.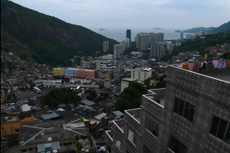 But, on the exhortation of the tour guide, we could not take pictures of people face on. Why? Because they could be drug dealers and thus are breaking the law. Rocinha is governed by the drug gang A.D.A. (Amigos dos Amigos or Friends of Friends), the most violent of the drug gangs in Rio. Elaborate schemes exist for early notification against police entry, including the use of heavily armed men, and even kids whose job is to signal strangers entering a favela. There is only one road through the favela. Access to the rest is through alleyways and stairs in which two people couldn't fit across. Houses are constructed by paying the local "administration", which means hardly any construction rules are obeyed – I shudder to think what would happen in case of fire as there were no fire escapes in evidence.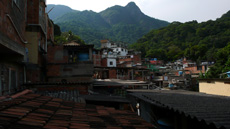 Rio is indeed a paradox, and a showcase of the challenge of successfully integrating people with varied economic status into a vibrant and safe city. The population in Brazil seems very well integrated in terms of race but very segregated in terms of economic situations. The rich live in beachside residences in gated communities and the favelas intertwine amongst these, where people serving the needs of the rich live – waiters and gardeners, drivers and cooks, construction workers and painters. I haven't seen any city that has gracefully and successfully integrated this diverse economic spectrum, and Rio is a stark reminder of this challenge.