A regret – Camping in Central America – Expensive campsites – Camping in style
Our only regret on this trip is that we haven't camped much. Camping because its beautiful, not camping to save money, that is. There's a certain 'je ne sais quoi' about setting up the essentials in a place of beauty. Eating fine food in the shadow of the Andes. Sleeping on the shores of a turquoise blue lake. Some things are just better appreciated outdoors. I don't particularly care for peanut butter jelly sandwiches, for example. But, have them on a hike after a few hours of exertion looking out over mountains fringed by araucaria trees and they are like manna from heaven.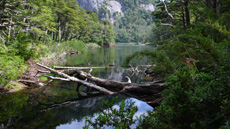 I ask little of campsites. The surroundings should be beautiful (otherwise why camp?) and there should be serviceable toilets and a water supply, if in a populated area. (Interestingly, I am perfectly fine with using a spade and the great outdoors while backpacking, but doing the same while car camping feels like slumming). Until we reached Chile and Argentina, we found nice campsites few and far between. One explanation of this could be that there is not much local demand for camping. So the campsites that do exist can be an amazing outdoors experience or one that can leave you traumatized for days

Chile and Argentina, however, is a completely different story. Campsites are always to be found in the most beautiful spots. They are primed to ensure privacy while camping, have clean toilet facilities, hot water for showers and even a 'comedor' or restaurant if you don't want to cook. We even stumbled upon one right at the edge of the lovely lake Colico with camping spots the size of a large apartment, sheltered kitchen and dining area, private bathrooms and electric outlets to plug in your microwave, juicer, blender, and whatever else you cannot do without. When we heard the price, we gaped (USD 44). This must be the most expensive campsite in the world.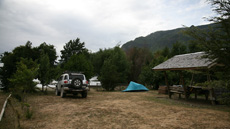 People camp for different reasons, and I have learnt to appreciate them. Whether you are camping because you can't afford your hotel or you are bringing your house with you, being outdoors can be exhilarating. Shreesh recently saw a show on TV where this guy was preparing a wonderful three course meal with a dramatic backdrop of snow capped peaks under brilliant blue skies. This has inspired Shreesh and he is busy planning how to outfit the car to carry a dining table, a cutting table, stove, gas cylinders, his Le creuset pots, two fridges (one for wine and one for perishables), his favorite set of kitchen knives and of course, fine china and Riedel wine glasses.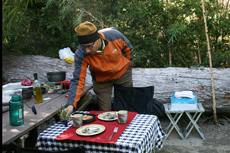 Of course, nature has a way of spoiling the best laid plans. Brilliant, sunlit days can turn cloudy and cold instantaneously. A few days ago we discovered that our rainfly leaks, inspite of generous application of seam sealer. This led to various on the spot permutations and combinations of the tent, rain-fly and a tarp to prevent leakage. I am still not sure we would be safe in a heavy downpour. But the payback was enormous. Chilean wine paired with beans in black mole sauce from Oaxaca for dinner. Indian tea, fried bread and a can of juicy, lemony sardines for breakfast. I am curious to see whether canned sardines will taste just as yummy at home in San Francisco.