Assessing security – Of Mompós – Wooden ferries – City of art: Barichara (Map this!)
The plan was to avoid Colombia. Entirely.
How to tell whether a place is secure or not? We don't have any fixed rules but a good indication is how security conscious the locals are. Armed guards at a small convenience store is bad news, but armed guards at a bank is normal. Barred gates at a hotel is normal, at a laundry they are a danger sign. After spending many days waiting for our car in Cartagena we got a good sense of how secure Colombia was. It was the first major city on the southern part of this trip where it was safe to walk at night and it was vibrant with street life. People strolled past ancient mansions and dancers populated city squares. In Cartagena I felt safer than San Jose, Costa Rica, and Panama City, Panama. With our friends Christopher and Lakshmi we decided to visit the colonial town of Mompós.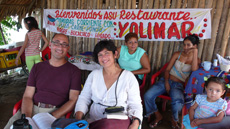 Getting to Mompós is not easy. Set in the hot muggy flood plains of the Rio Magdelena it is only reachable by boat as roads are very expensive to construct in the watery swamps that surround it. Five years ago the lands around Mompós were aflame with guerrilla activity and a trip like ours would have been imprudent. Driving to the end of the road town of Magangé we put the FJ on an ancient ferry and settled in for the hour or so ride to the other side. From here a good paved road leads to Mompós.
Mompós is a sleepy village with incredible colonial architecture. So tiny was the tourist office that we were greeted by none other than the Secretary of Tourism who gave us a checklist of all the sights, all of which did not involve any work to appreciate. In its heyday Mompós was a fairly important settlement for the Spanish, whose mansions line the riverfront street and the town was a favorite of the South American liberator Simon Bolivar. Today Mompós is so thoroughly relaxing that one can spend hours watching the river flow by while drinking thimbles of weak coffee or shopping for gold and silver filigree wrought by master craftsmen.
The road to Bucaramanga was a 4WD dirt track to El Banco, from where the car was transported on a rickety wooden ferry. It is amazing what a dirt road can do to enhance the awareness of your surroundings. We made several stops to appreciate the herons, jacanas, hawks, ducks and geese swimming, waddling and playing in the swampy land. It took us several extra hours than the locals estimated to reach Bucaramanga.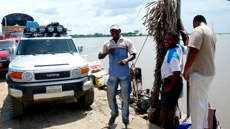 Getting to Barichara was much easier but the town offered greater rewards; the chief being the climate, which was refreshingly bracing after the heat and humidity of Cartagena and Mompós. We were there just by chance, a convenient way to break the journey in another colonial town. Christopher and Lakshmi liked it so much that they immediately took to my suggestion of spending an extra night there. A huge cathedral dominates the town square and the cobble stone streets are lined with art foundations, sophisticated restaurants, and interesting non-profit projects. New constructions are in the old rammed-earth tradition of hundreds of years ago. There is something magical about staying in an earth house and in Barichara the Tierraviva foundation applies modern engineering techniques to refine and design new earth constructions.
All of us were so enamored with Barichara that we could easily spend months there, hiking to serenely beautiful Indian pueblos and birding in the cool hills. Christopher was so excited by all the earth construction that he ran around the site of a large "earth palace" and got his shoes all muddy. One of the locals gave us a tour of his new house to be, complete with outdoor verandahs and reflecting pools. As everywhere, we found the Colombians very eager to chat and share their life with us. And it was not long before practically everyone in town knew about the crazy Estado Unidenses with their funky vehicle driving to Tierra del Fuego…