Just a theory – Amazing beasts – No fear – Moving eggs
One cannot think about the Galapagos without thinking about science and the name Charles Darwin. It was the unusual life forms found here that proved critical to the formulation of the Theory of Evolution. The Theory of Evolution is just that, a theory that explains observed phenomena, just like the Theory of Gravity, or the Theory of Relativity. All share the same factual plane in the eyes of science and as far as we know all hold true, until some undiscovered data cause us to revise one or all of them. All scientific facts have to be predicated by "As far as we know…" or "Evidence indicates…", which makes science very exasperating for some.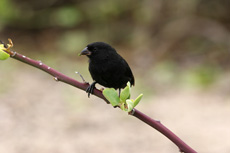 The Theory of Evolution has itself evolved and today it has splintered into subgroups like gradualists who believe that evolution was a slow gradual process and puncuated gradualists that believe that the gradual process at times had sudden rapid spurts. This is only one example, and there are many other groups and subgroups that make it seem as if evolutionary biologists are in violent disagreement about the whole thing. But such is science – for simple black and white answers better to look else where.
The most amazing beasts we have seen so far have been the Giant Tortoises. To this day we do not know how they got to the Galapagos – the only conjecture is that they floated here from South America, but that seems like a ludicrously long distance for a Proto-Giant Tortoise to float. But here they are nonetheless, evolving into twelve species here on the Galapagos. These plodding, slow creatures can live to be over 150 years old and are strict vegetarians.
Another very cool thing about the wildlife here in the Galapagos is that it does not have any innate fear of humans! On a trip to Seymour Island we strolled by nesting Frigate birds and Blue Footed Boobies close enough to touch then. We are so used to animals fleeing upon approach that it is quite an experience to see them up close. Even the tiny birds known as Darwin's Finches seem quite unpreturbed as we walk by. Very strange indeed!
Today 97% of the Galapagos are under the National Park system and the visits are strictly regulated. Despite severe threats from introduced plants and animals the islands ecosystem remains largely intact and the Ecuadorean government is working hard to preserve it. We did our little bit today by helping to move some Giant Tortoise eggs from a nest to a controlled incubator for hand-rearing. With luck, the Galapagos will be there to be enjoyed by many future generations!