Paucartambo – Cock of the rock – Manu Biosphere Reserve – Macaw clay lick – Hardship
Starting from Cusco we passed through the Andes, stopping at the village of Paucartambo where we made a brief stop to view the display of statues made of bronze. Each statue signifies a role played by the participants in a festival held in July of every year.We proceeded to the cloud forest to view the gorgeous display of male cock-of-the rock; pretty birds with bright crimson colored body and crest.
| | |
| --- | --- |
| | |
| | |
Continuing the next day by bus and then by motorized canoe we sailed through the turbulent river "Alto Madre de Dios" to Boca Manu. Here we changed course to the Manu river entering the Reserved Zone of Manu Biosphere Reserve. This area had a wealth of colorful birds, caiman and different species of monkey. At the crack of dawn we were awakened by howler monkeys that made us aware that we were now in their territory. Along with them were birds – oropendolas making a sound as if someone were pouring water into a jug. We could sometimes see as many as ten hanging nests of oropendolas in one tree.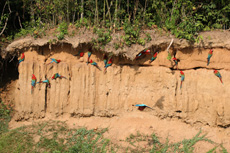 The most impressive part of the Manu trip was seeing literally hundreds of parrots, parakeets and macaws eating clay. The clay has a detoxifying effect on some of the seeds they eat. There is a distinct sequence of events that occurs during this ritual. At first, parrots show up in large numbers followed by parakeets. Once they leave and the ground is clear, macaws descend from the trees and start eating the clay. There is a special platform built to observe this incredible event. Interestingly, all these birds move in groups in great harmony.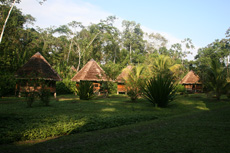 Everything so far sounds very exciting. However, there is no fun without some hardship. Most of the lodges there had no electricity or hot water and had shared bathrooms. We had to leave the camping area by 5am. On the last day during our return our bus broke down in the middle of the journey and we had to wait four hours in the dark to get a ride back. All in all it was an experience of a lifetime that makes you feel humble and appreciate the wonders of nature.