First impressions – Peruvian paradise – Peruvian hell – Peruvian aesthetic
Strictly speaking, these are not our first impressions of Peru. We visited the Sacred Valley, Machu Picchu and Nazca in 2005 and we loved it. It is hard not to like Peru, it seems to have the best of everything. The rich rainforests of Manu for the birdwatchers and insect lovers, spectacular Inca ruins, with Machu Picchu being the crowning jewel, the jagged peaks of the Cordillera Blanca for the trekkers and climbers and the amazing Nazca lines for, well, everyone.
Peru is also the food lovers paradise. To me, it is the Japan of South America, with its ceviches unmatched in any other American country. These then, were the reasons why we liked it so much.
We got a slightly different glimpse of Peru this time around. Although having a car has its advantages, it does increase our liability and makes us a bit paranoid. Driving an obviously expensive car (the FJ Cruiser is much more expensive in Central and South America than in the US) draws people's attention to us. After Guatemala, Peru is probably the most unsafe place we have been to on this trip. Thankfully it does not have military sanctioned car jackings and kidnappings as in Guatemala, but we do have to be more careful around well known tourist locations.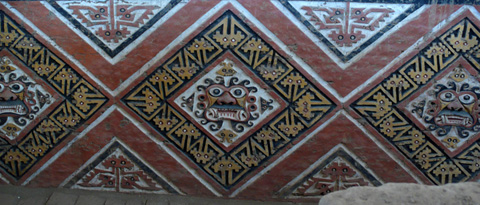 Of the countries that we have visited, Peru is probably one of the poorer nations. And litter seems to accompany poverty. The beautiful roadside scenery is inevitably marred by rubbish. In Trujillo, Shreesh told off a teenager who threw an empty plastic bottle on to the street. Then we noticed people from all walks of life doing it, sweet wrappers, paper napkins were being thrown out on the street by the clientèle of fancy restaurants. Why is it that educated, well to do people do not understand a garbage can? No wonder the country bumpkin was littering.
Corruption seems to be rampant too; we have already been stopped for a donation by the police, albeit very politely and pleasantly. I have often seen policemen taking bribes, but never begging like they do here.
But, in spite of all this, Peru continues to enchant us. The ruins of Chan Chan near Trujillo, the pyramids of the Moche – all display a pleasing sense of aesthetic particular to Peru. I hope to continue enjoying the pleasures that it offers without too much bribery!