Poor impulse control – At a paint store – Sweet baby Jesus – Tazering Argentines – Oftimes Barrio Manga
The grip of hot muggy weather never loosened the entire day. It was a day when sweat instantly drenched my being upon stepping outside into what was not unlike a large outdoor steam-room. On such a day men are capable of anything as the weather alternately maddens the mind or saps the spirit, makes them crazy or delusional, and exacerbates an already poor impulse control.
We arrived at the docks early at 8:30am, hoping to free the faithful FJ from the bondage of a container where it had been trapped for the past eight days. Armed with a piece of paper outlining the eleven (!) steps of bureaucracy needed, we expected the first to be fairly straight forward:
1) Print final Bill of Ladings.
It was not to be. Maddeningly, it was not quite ready yet, for a reason not fully explained. I decided to call our agent in Panama to find out what deity had to be sacrificed to in order to get this precious paper. After being sent on a wild goose chase to find where I could make an international call and driven to the brink of mental collapse because of the torturous sun I stumbled upon the Glidden Paint store that seemed like the only place in the docks where an international call could be made. Now why didn't that occur to me, of course, I needed to find a paint store to make a phone call!!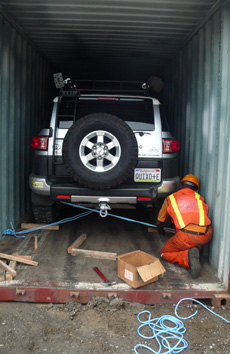 I don't know what magic Evelyn did or whether the paint store God was pleased by my suffering but when I got my smelly sweaty self back to the docks the paper was ready! Of course, I had piddled away most of the morning doing step #1, still had ten more to go, and it was dangerously close to lunch time. Step two called for us to be in Barrio Manga, conveniently located several kilometers away. After taking a taxi there we were told, no, that was the wrong office and we had to be in another such-and-such office, very thoughtfully placed four double avenue blocks away in the noonday sun. When we made it there we waited, thank you sweet baby Jesus, in an air-conditioned waiting area. Clutching three delicious and treasured copies of the Temporary Importation Permit we taxied back to the docks for the next steps.
Noontime is lunch time and if you are a government worker you are entitled to a two hour lunch. How very civilized! The cheap Chinese restaurant at the docks had Chateaubriand on the menu (??!!??), but we satisfied ourselves with some rather underwhelming "Chow Min". At two o' clock we presented at the third customs office, this time at the docks.
The dock area was hyper secure only me and my container mate, Mssr. Mario Moreno Bordignon, were allowed into the waiting areas. Our mujeres had to wait outside, in the weakly air conditioned area. A helpful young woman at window #6 took all our precious papers and told us to wait for the container to be unloaded. While waiting a cheer went up amongst the officials and everyone abandoned their stations to watch what we thought was a soccer game. It was not – Ingrid Betancourt and fourteen other hostages held by the FARC had been liberated in a daring cloak and dagger operation! Bravo, Colombia!
A port official in a starched white uniform rushed in and excitedly told us our container had been unloaded. Before I could get on my knees and kiss her saintly white shoes she let on that the container had been unsealed, and our personal lock had been broken, as a mere courtesy detail. An Argentine lad flew into a rage at this news and I am sure they would have Tazered him into submission if he had carried on much longer.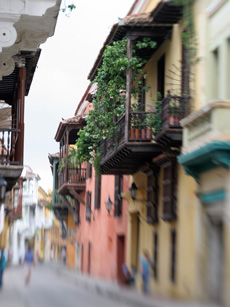 Now it was time for our assigned inspector to inspect our car. Well, it was one of his lackeys, the real inspector was far too important to do any inspections. With a clean inspection report in hand we had to go back to the lovely environs of Barrio Manga to get the signature of someone-or-another. Of course Mr. so-and-so was out and we spent several tense minutes waiting since the port closed at 6:00. Leaving a car out in port overnight around avaricious, kleptocratic, elastic moralled people did not seem like a very good idea. Luckily he signed and now it was time to go back (again) to the docks.
Squeaking in ten minutes before the port closed we waited at our favorite window, number six, to get the release papers. Let there be more papers, as if we didn't have enough already! After getting a hefty bill for 660,000 pesos (almost $400) for port costs and paying at the bank located next door (at last an appropriately located office) we got the papeles. By the time we got out darkness had descended and we were left to navigate the chaotic streets of Cartagena at night…