Rims
The choice of tires was very important and a source of great discussion and research. We decided to downsize to 16-inch wheels so we could get more rubber in the wheel well. The stock steelies had a real no-nonsense look to them that we really liked but alloy wheels are so much lighter and stronger. Going with the Toyota TRDs was not only economical but if we have a failure on the road they can be sourced from a local dealer. Well, there is a greater chance than some specialized after-market wheels.
---
Tires
Once the wheels were decided, what to put on them? The choices were BFG All-Terrains, BFG Muds, and the GoodYear MT/R. The All-Terrain is an awesome tire and many expeditions use it but we wanted a slightly more aggressive tread. Given the high rolling resistance and wear characteristics of the BFG Mud we decided to opt for the GoodYear offering. 285/75/R16 Goodyear MT/Rs fit very nicely in the wheel wells with no rubbing.
---
PIAA Lights
We were forewarned by our 4 wheel drive buddy and teacher Harald Pietschmann not to install lights on the roof rack as they would only light up the hood. However, we still chose to install the PIAA 520 driving and fog lights which, in additon to giving us addtional light, serve as a faring for the really noisy Gobi roof rack. Overall, they worked out well although we aren't too happy with the bad quality internal switches. To read more of our travails installing the PIAA lights, click here.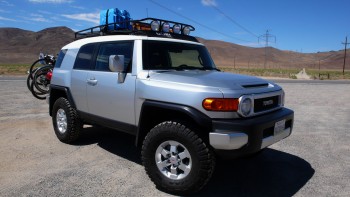 ---
Tuffy Storage Locker
The only times our car has been broken into in San Francisco was when our laptop mount was visible, leading the poor thief to belive that there was actually something valuable in the car. So a common sense lesson learnt was to NOT leave anything in the car as a temptation. Well, its a little impractical to offload hundreds of punds of recovery gear every time we stop for lunch. To our rescue came Tuffy's storage locker, made specially for the FJ Cruiser. Troy Hoffman, who has made other modfications to the FJ, installed this for us. The storage box comes with only 4 bolts to hold it in place but Troy reinforced the support by welding it to our luggage barrier.