Laptop Mount
The onboard computer is a Panasonic Toughbook CF-19, and to hold it we needed an adjustable and sturdy mount. RAM makes one especially for the FJ Cruiser that is a no-drill design that utilizes the existing bolts for the seats. The trap is fully adjustable to fit any size computer and the arm can telescope up, down, and rotate in and out. It was a pretty easy install and seems well made. The final test will be how well it holds the laptop over bumpy roads.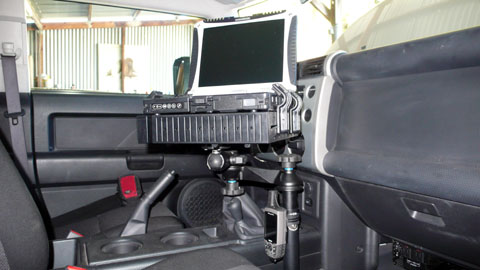 ---
Jerry Cans & Tie Down System
Desert travel requires lots of water for safe passage. The jerry can, tried and tested since the second world war, was just the right container for our water needs. To read more about the design and development of this fascinating item click here (Scroll down for the history). Each water filled jerry can weighs forty pounds so we installed a jerry can tie-down system from the manufacturer of our roof rack, Gobi. Load spreaders reduce the stress on the expanded metal deck and the cargo buckle conveniently stores the ratcheting strap.
---
60″ Hi-Lift Jack
The Hi-Lift Jack is supposed to be a very versatile tool for off-road conditions. You can jack your rig out of a deep hole, convert the jack to use as a manual winch, and even use it as a spreader in a "jaws-of-life" situation. I wished I had it at Burning Man to pull out the deeply embedded rebars! I have never used the jack but I got the 60″ version because Bill Burke says it is better for manual winching. The jack is a 37 pound hunk of metal strapped to the roof and is quite unwieldy; mounts made by Fourtreks hold it securely. Already it put a nice dent in my roof when it slipped out of my hands while putting it up top.
---
Purple-K Fire Extinguisher
Purple-K is the "most effective dry chemical in fighting class B (flammable liquid) fires" so we specially ordered one over the internet from a site recommended by a Firefighter. It took MONTHS to arrive – first they were out of stock, then the first unit discharged in transit. The second unit is now mounted on our cargo barrier with a fire extinguisher mount from the versatile Fourtreks.
---