A multi-dimensional experience – Pregnant vixen – Of smoky rooms and goat ears – Spring of hope
Wine has an amazing ability to grab the imagination and cement into memory a time, a place, and a mood. This makes drinking wine a multi-dimensional experience – recalling past experiences and strengthening or creating future points of reference. Memory is tricky and selective and many times we only remember what we want to remember and over time we forget that, replacing the actual memory of those events with the distilled version. The ordinary sunset takes on hues of peach and rose that never existed, the old boss who was simply incompetent becomes an evil flagellating ogre, a cherished uncle a saint who can do no wrong.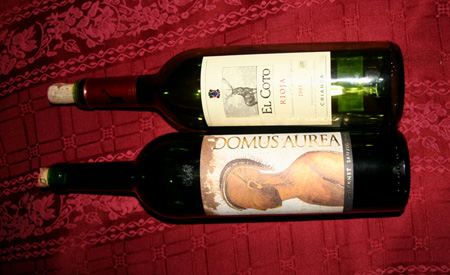 We were at the Multi-Centro to see a movie. Any movie would do, we hadn't been to a theater in ages. We had an hour to kill and I decided to duck into a wine store and Neena into a book store. The salesperson was intently busy with her IM conversation and scarcely paid me any attention and I would have done the same if it hadn't been for her extremely odd comportment. Her low cut pink top revealed her bra and the tops of her breasts and was short enough to reveal her stomach and the top of her fishnet panties. All too normal for Central America, except for the fact that she was five months pregnant! How unlucky that I do not cleave to the pregnant-vixen fetish!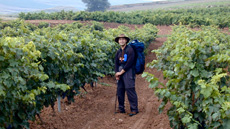 I have been in many wine stores throughout Central America all boasting poor selections and prices double that of California. I saw the 2003 El Coto Rioja first. All the old memories from the Camino Santiago came tumbling out – the smoke filled tapas bars in Logroño, walking into the vineyards of Rioja and stuffing Tempranillo grapes into my face, painful blisters from the Camino, and laughing with our fellow pilgrims. A very common wine in Spain, it was impossible to find in San Francisco as it did not have a California distributor. This was a tasty wine that stood up to smoke filled rooms and goat ear tapas, to be quaffed in the company of friends, bottle after bottle.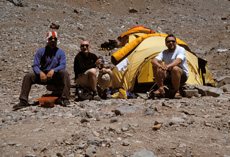 The second surprise was even more shocking that the first. Near the end of my perambulations through the store I saw the 1997 Domus Aurea, the finest bottle of Chilean wine I remember having. The mood at the café in Santiago, Chile was ebullient, a spring of hope blissfully ignorant of the winter of despair. As we dined alfresco in the austral summer we knew that we were in top physical condition thanks to trainer Bob, that Mount Aconcagua was only a baby step to bigger and higher peaks. There was no limit to what we could do; our salaries were in an upward J-curve and our bodies were fit enough to be pushed as far as the mind could push them. And the wine we were having was the finest we had had from South America – Domus Aurea.
I managed to distract the pregnant-vixen long enough to ring up the sale and both wines did not disappoint – each was exactly as I remembered it, or more correctly the verisimilitude of that which I remembered.