Of molinos, metates and mezcal – Cooking with Susan Trilling
Susan Trilling's cooking classes are brilliant. They are less cooking classes and more an introduction to Oaxaqueño food. So cooks and non cooks can all enjoy them without any trepidation. The classes are held on a lovely ranch in the countryside with a kitchen decorated in warm, earthy Mexican colors and plenty of light.
Greeted by glasses of cool lemonade and orangeade, we proceeded to inspect the age-old tradition of making quesillo (Mexican string cheese) and queso fresco – from whole milk, of course. The rich, fermented, mozzarella like quesillo fills tlayudas, tostadas, enchiladas. Queso fresco is a fresh, salty cheese that can be used as a topping for almost everything.
The five course meal was a pleasure to prepare in a kitchen so well equipped with Vita-Mix and other people to wash the dishes! The appetizer, called tetelas, were triangular turnovers filled with bean paste. These were cooked on a traditional "comal", a huge flat earthenware pan on a wood burner. The comal is lined with lime so that tortillas do not stick to it. At the main markets you can see the comals everywhere with women preparing corn tortillas, tostadas (dried tortillas) and tlayudas (HUGE tortillas dried and folded; eaten with various fillings of bean paste, cheese, chicken, lettuce, tomatoes and salsa).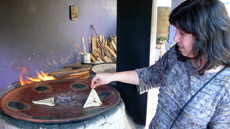 The garlic soup was garnished with beautifully golden zucchini flowers, the ensalada was freshly grilled vegetables, including nopales or prickly pear. The pride of place was, predictably, chicken in mole coloradito. Mexican rice has not impressed me much; however when cooked with oil, chicken stock and chepil leaves it turned out quite well. The dessert was based on two regional specialties – mezcal and chocolate – can't go wrong with that!
When we sat down to the delicious meal in the farm with a fresh breeze cooling the place down, it struck me how much we have given up for convenience. Supermarkets, the expeditious friend of the working man/woman, gives us unripe vegetables and fruits the better to transport; frustrating half hour lines for check out and impersonal service generally from a person who cannot recognize, let alone know how to use the simplest herbs. This meal was prepared by chicken bought and killed that day from the local market, vegetables just ready to be picked, sauces freshly prepared and cooked and chilies bought from the vendor who could probably give you dozens of recipes and advice about how to use each kind.
The metates for griding the chilies, the molino (mill) where you can get chocolate ground to your specifications, the tortilla ladies, the premade mole pastes, the home delivery of water and tamales – all remind me of my childhood in India although the dishes are strange and exotic.