Travelling regally in the footsteps of the Inkas
(Map this!)
"Tea or coffee"? We wake to this familiar call as a basin of hot water, soap and towels miraculously show up outside our tent. Better hurry up, the water will get cold! The hot drinks show up even before we finish our ablutions. And voila! What's that? The mess tent is ready for us with hot cakes and cocoa tea!
Life on the Inka trail was luxurious, to say the least. After a morning walk of a few hours, we would stop for lunch, to be greeted with the ever present hot water basins and a cool drink. Then a three course sit down meal. Peruvian food has got to be one of the best in the world with uncommon dishes like ceviche, choclo (a very big, flavorful corn) and kui (guinea pig). And how can you go wrong with produce from "Valle Sagrada" (the sacred valley)? The name itself conjures up visions of food fit for the table of the Inka kings. Our camp cooks adapted this gastronomic legacy to camping admirably.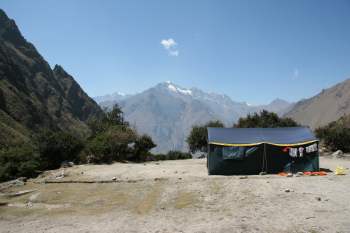 Walking on the trail gives you a strange sense of pilgrmage as you realize that you are walking the trail setup and travelled by the Inkas, who would visit sites of largely unknown purpose perched precariously but stunnigly beautiful in the mountains. The regal sense is unwittingly preserved by the tour companies with tent service, mess tents with elaborate meals and porters carrying huge loads so that we, the spoilt, the rich, can walk unemcumbered.
Is this how the maharajas of India, the kings of the Inka and the marauding mongols journeyed? Amongst stupendous scenery being waited on hand and foot? Have to say – its an amazing way to travel!