Neena's reflections
Anniversary – Why? – Time to reconsider – Learning – Crisis
The 1st year anniversary of our trip was on Oct 20th, 2007. Last year, at 10pm this day, we left our apartment of 11 years to head North toward the Arctic circle, before turning around for the long drive south to the tip of the Americas. A year later, we are making an assessment, what did we expect from this trip and what have we learnt?
When Shreesh's parents visited us in Peru, they asked us the question, "Why are you doing this trip"? Since our four month honeymoon, we have always been committed to taking occasional breaks in our work lives to travel, which both of us love to do. We did not want to wait till after retirement. The time to do so is NOW, in tandem with changes in us and our abilities as we age. I do not think we would attempt to climb Aconcagua at the age of 65, or sleep on the deck of a ship as we did in the Andaman Islands 17 years ago.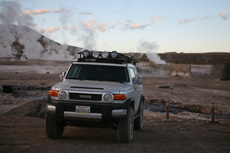 But this time, as we are comfortably settled, the trip represents more than travel for us. It was time to take stock, to change our lives if we wanted to. We could continue as we did, leading comfortable lives in San Francisco, or we could change, acquire new experiences in new places with new careers, before it was too late. We had a vague idea that an extended trip through the Americas would give us time to reconsider, away from the places and friends we love so much.
We worked hard and learnt a lot in preparation for this trip. Auto mechanics, Paramedics, Spanish. All were new and enjoyable experiences, some more (like learning Spanish in Oaxaca) than others. Visiting the wonderful Caribbean coast, I finally lost my fear of water and discovered the joy of snorkeling and water activities. I learnt that I can easily hike at 16,000ft, as long as I pace myself. On the long 8 hour drives, we started making big plans. Amsterdam, Budapest, Prague, Montreal. Which city was it going to be? Or should we change careers to study enology? The options and debates were limitless.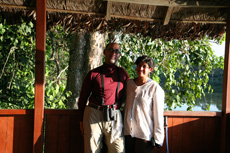 But the financial crisis has, ironically, brought us closer to home. We read the New York Times assiduously, we download and listen to Michael Krasny's Forum. We follow all the gaffes that Sarah Palin makes and view the election map eagerly. Even if the US is going through hard times, I feel it is an important time to be there, on the brink of big changes. As we watch our portfolio drop, it also seems as an easy option, go back to the city we know, the friends we love, to new challenges which are always available in San Francisco. What will the next few months bring – big changes or flight back to the comforting arms of our beloved San Francisco? I don't know yet, but the answer to that question is waiting at the end of the trail.
---

Shreesh's reflections
A year gone by – Change – Big changes – Overcoming Fear
I would like to say that "Gee, I can hardly believe a year has gone by!" but I cannot. It definitely feels like a year, if not more. Does time fly by when you are having fun? Yes, if it is an abandon mindless kind of fun I do think it does. I fully support that kind of fun, but there seems to be surprisingly little of it in my life. Being on the road in foreign lands has made me acutely aware of every single day; each interaction requires thought and care with no opportunity to be on autopilot. Time scrapes past like a rasp, peeling off an old layer, making me aware of each little peak and each little valley. Every day I am forced to look at the world with new eyes, decide whether to stay where I am or which direction to take if I go.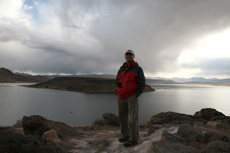 I was hoping to change in a big Che Guevara type way, but that has not happened for I still remain a humble and optimistic Ernesto. Change is good and I am ready for it, but it cannot be forced. It needs to happen as naturally and organically as a larva becomes a pupa and the best I can do is put myself in a position where change can happen. In San Francisco, surrounded by everything that I loved, there was no space for change, my life was full with too many fascinating and beautiful things. Change needs space, a tabula rasa where it can occur.
While I remain obdurate and unchanging, the world from which I came from now seems to be on the cusp of dramatic changes. Mammon has run wild in many shapes and guises and it is now time for a reckoning, perhaps one of epic proportions. We need to build a strong cage to confine him for another eighty years, because if we don't even our non-existent God cannot help us.
Roosevelt said "We have nothing to fear but fear itself". There are always people who will say ten thousand confidence sapping things filling you with fear. This entire trip has been one of overcoming fear, that mother of all fears, the fear of the unknown. The greatest lesson I can take away from this one year is that I have the strength and confidence to overcome my fears, to learn entire new disciplines and to achieve my goals. Change may engulf us but our core will remain the same, hard and unchanging, ready to weather all storms and to accomplish what we set our mind to accomplish.