Expensive laundries – FJ gets a chassis wash – an unimposing UNESCO site – Parking in Panama City
"Lost in Translation" was not one of my favorite movies. While watching it, it seemed slow and boring. However, this movie has been more often in my thoughts than ever before. Our situation just begs for misunderstanding on a grand scale. The cultural differences, added to the language difference, are the perfect recipe for disaster.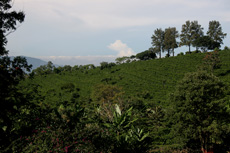 Misunderstanding caused us to run up a $65 laundry bill. We were staying at Siempreverde Lodge, a lovely B&B located in the coffee country around Alajuela in Costa Rica. The caretakers were very nice, greeting us with the usual Costa Rican courtesy. Eager to please, they offered to do the laundry for us when we inquired about a laundromat nearby. They had no idea of the cost, as the hotel didn't offer laundry service, but said that it would be cheap. Lo and behold, on the last day we were presented with a laundry bill equal to the cost of our room! We were directed to take our grievances directly to the "senora" (either owner or manager, we weren't sure). She assured us that laundry by the pound in Costa Rica was much more expensive than either the US, Canada, Mexico, Guatemala, Nicaragua or Honduras – all the countries that we had visited on the way. We didn't pay the $60. I suspect she pulled the rates off an old hotel bill.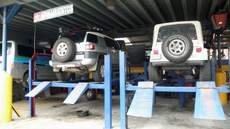 The car always offers up opportunities for misunderstandings. As in the time when we asked for a chassis wash in Playa del Carmen and found that this included dowsing the undercarriage of the car with used motor oil to prevent rust! Aha, that's what the "engrassar" on the sign was all about! Shocked, Shreesh had to intervene and hurriedly wipe it off the brake lines and CV joints. Then there was the time when we were waiting for a mechanic to look at our car window which wouldn't roll up or down. The mechanic's wife explained that he was stuck in traffic, so we would have to wait. Trying to put our time to the best use possible, we started to troubleshoot the window problem ourselves. Engrossed in this task, we didn't notice the mechanic arrive. He took one look at us, assumed we were going to fix it ourselves (in front of his shop, I guess) and off he went on another traffic infested route, never to be seen again.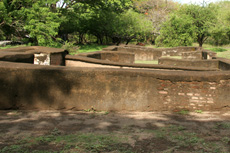 Guidebooks can be relied upon to cause misunderstandings. I notice that every beach has possibly the "clearest waters in Central America" or the "best coral for snorkeling". For us, the biggest disappointment was Leon Viejo. Designated as a world heritage site, Leon Viejo was the old capital of Nicaragua. It was abandoned due to the proximity of the volcanoes Momotombo and Momotombito. Expecting to walk through a ghost town with cool ruins like Antigua, we excitedly made the 35 mile trip braving the awful Nicaraguan traffic. When we found that the last few km of the road to the ruins was paved with stones like old Roman roads, our expectations peaked. To our surprise, Leon Viejo consisted of a stroll amongst 4 ft high walls, which was all that was left of the beautiful churches, convents and noblemen's houses. Although restoration had given it quite an aesthetic look, we couldn't help but be disappointed that the highlight of the trip was a lovely view of Momotombo and Momotombito from a small mound on the site.
And then there are the hotels. "Te lo dijé", our nice receptionist at Hotel California told us, "I told you that the garage had no roof". We had no idea that an open air garage meant a few reserved spots right on the street in Panama City, with no doors that could be comfortably bolted at night. We rolled our eyes and resigned ourselves to the perils of navigating a foreign country in a foreign language.