I have written this page to give you a sense of the type of person I am – willing to take on challenges, learn multiple disciplines quickly, and think creatively. How does one take the ephemera, the wisps of thought, the vague non-ideas and make them real? There is a phrase in Spanish that I love – Lo que pasa es que…
There was a huge multipage list of reasons against doing a trip of this type but only one reason for. However, when I weighed the reasons against on one side and the reason for on the other, the choice to do the trip came out ahead, far ahead. Thus we began preparing and getting ready for the task ahead that grew more daunting the more we thought about it.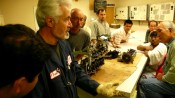 Auto Mechanics was our greatest concern, because it was an area where our ignorance was complete. After decades of delegating, we would have to get our hands dirty. Ugh. Since car trouble was the most likely problem we would encounter, we enrolled in the Auto Mechanics program at the City College of San Francisco. For a year and a half before the expedition we went to classes, busted knuckles, strained muscles and donated blood to the project car that we bought expressly for the purpose – a 1997 Mazda Miata. Our projects included replacing the timing belt, reworking the suspension, changing out the seals on the intake, and replacing the brakes. By the time we started the expedition we had worked on almost all the major systems in an automobile.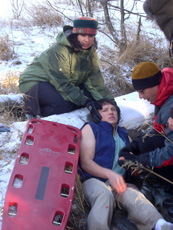 In the spirit of whatever is worth doing is worth overdoing we decided to take an accelerated Wilderness EMT course offered by NOLS. Cramming all the study of a semester into a month, the course was an academic sprint. Since we were starting from zero, we had to work from 4:30am to 10:00pm everyday to keep up with the rigorous study material. On our way to ER rotations we came closest to death during the entire trip when we hit a 1,200 pound bull Elk.
To get to know a country, to see past the surface and to relate to the people you have to speak the lingo. Stopping in the the colonial city of Oaxaca, Mexico, we did an intense month-long immersion course, where we studied five hours a day along with several hours of homework. This foundation proved incredibly valuable, especially when we did video projects, such as the one below on the civil unrest in the town of Chaitén:
Thank you for taking the time to read my statement. Feel free to look around the site and drop me a note about what you think.
Shreesh P. Taskar