Needles as a child – How I said "Nevermore" – Needles as an adult.
Vaccinations are a familiar part of any holiday for me. As a child in India, my family made our annual pilgrimage to Mumbai to visit the family from New Delhi. And so the ritual trip to the doctor's office to arm ourselves against typhoid, cholera and tetanus, amidst much crying in anticipation of the needle.
I remember clearly the moment when I determined to stop crying. As is common in India, some family friends had dropped in unexpectedly just as we were about to go to the doctor's office. So, we all set off for the quick little pricks and then dinner. In the middle of bawling when my turn came, I turned my head to see the guest's kids, our age, with their noses pressed against the outer glass peering at us and laughing at our plight. And I said, "Nevermore"!
Vaccines have been a prominent part of our trip prep as we explored Africa and South America over the years. Our vaccinations are always up to date. A very good site to use as reference before traveling is the CDC. If traveling to certain areas, you need to take the dreaded Yellow Fever vaccine. The challenge is not to find a doctor who will administer this vaccine but to find a clinic that your insurance will cover. Fortunately, in a terminal in SFO (yes, the airport) St Mary's runs a travellers's clinic which will do all the research on CDC for you and administer the requisite vaccines. Go prepared with a good book, the word "appointment" is used very loosely! Our geography was tested too when we had to list all the countries we were going to visit on a form which Shreesh passed with flying colors.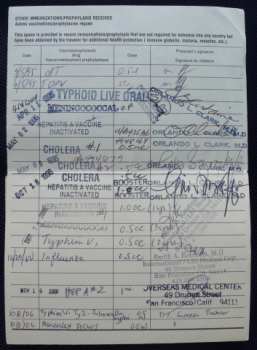 A good strategy on a long trip like this is to start taking vaccinations months in advance. Some vaccines like Hepatitis B require 7 months for a full course. Here's a list of vaccines we had to take.
Hepatitis A – 2 shots 6 months apart.
Hepatitis B – 3 shots, one month and 5 months after the first one.
Typhus – 1 shot
Meningiaties strains A,C,W,Y – 1 shot
Tetanus booster – 1 shot
Yellow Fever – 1 shot
In addition, we had already been inoculated against polio and diphtheria.
Bugs – Begone! We are prepared!