The worst hike – The Colca Canyon – Andean Condor – Reward for diligence.
(Map this!)
You know that you are on the worst hike in the world when
You start the off not feeling well and know that you probably shouldn't be hiking in the first place.
Your expectations of an easy hike are unfounded, the hike turns out to be a knee busting downhill schlep over a gravelly path that defies sure footing.
You expect to find lunch at the halfway point and are told "No hay comida" (There's no food).
Having started the hike late, you expect to find mules for the way back but all the mules have been booked by tour groups.
On the way back you develop diarrhea and realize that you have no toilet paper.
Your reward for the hard hike is less than spectacular scenery and the goal is an uninspiring grassy campground with a swimming pool.
You get rained on on the way back and it gets dark.
Your knees have turned to jelly and you can't negotiate the stairs to your room when you reach your hotel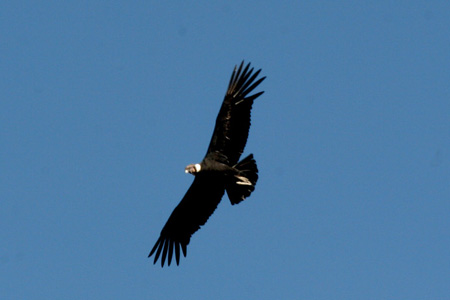 I wasn't impressed by the Colca Canyon. Touted as deeper than the grand canyon, it is neither as impressive nor as spectacular. It isn't even that deep. A popular hike to the bottom of the canyon is only 3,500ft. I have no idea how they measure it, maybe there's one small area that's really deep. Or, maybe they include the mountains surrounding the valley of Colca in their measurement.
The Colca canyon is more of a valley and it is pretty. Rustic villages surrounded by a terraced countryside make for a pleasing lansdscape. Entirely missing, however, are the steep, sheer walls that create such a visual impact at the Grand Canyon or at Zion. In contrast, the Colca Canyon is a gentle valley leading to an ordinary canyon.
The Colca is famous for sightings of the Andean condor. The condor is a huge bird, one meter tall, with a three meter wing span. The sight of this bird, with its black and white wings spread out perfectly to ride the uprising thermals, its white collared neck streched out looking for food, is a spectacular sight. Especially when seen in a flock of five to six birds, rising up in evergrowing circles, out of the highest mountains surrounding the canyon, until they are a speck against the blue skies.
You have to be incredibly lucky to see this spectacle. More often than not you see a lone bird, rising far in the distance, and have to be satisfied that you saw a condor. Well, this is wildlife, you say. You cannot guarantee it. But without a sighting of the condors the Colca Canyon is just another pretty but uninspiring spot.
We visited the Cruz del Condor three times. Our diligence was finally rewarded when the third day dawned bright, clear and hot, and we could see about ten condors gliding close by, up, up and out of the canyon on their search for their daily bread. (On that day the condors left their nests early, however. A lot of tour groups, arriving after 8:15am, never saw even one.)
---
New additions to the website:
• Slideshow on Manu Biosphere Reserve.
• Slideshow on Santa Catalina Monastery, Arequipa.
• Review of Garmin 60csx GPS
---