Why are we so eager to believe the worst?
Driving along Canada Highway 16 we came across a curious and ghastly billboard that proclaimed it the Highway of Tears. Pictures of young girls, "Killer on the loose", and the Highway number surrounded with little cartoon tears, attract the attention of the passing motorist. We stopped immediately to contemplate the happy smiling pictures of the victims whose young lives had taken such a turn and were saddened by the fact that such a tragedy could be enfolding on this beautiful, remote, and scenic road.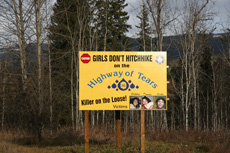 As soon as I got to my hotel room in Vanderhoof, I started my research into the subject and found that the case was much more complicated and colored with grays than black and white. The first red flag was the fact that there were five disappearances over a period of eighteen years, which got me thinking "I wonder how many people disappear on an average highway over the course of almost two decades?" I realize that one disappearance is one too many but given such a long period to time some are inevitable. On the whole good roads are a good thing but sometimes the price is exacted in human blood.
Another aspect of the case(s) is that these people are missing, so they might have met their end far from this BC location, in some distant city, town, or suburb. So many things we don't know – were some of these girls simply escaping small town life? Parents don't like to think that their children would flee the life they have built for them. When doubts like these begin to accumulate the data support for the serial killer premise begins to crumble…
Why is it that we are so ready to believe the worst of people? Serial killers represent the low point of humanity and a handful of disappearances over many many years leads us to the most horrible conclusions. I am not a religious man but I believe that most people are honest, kind, and helpful. The above premise has been verified over and over during this trip. But, in the true spirit of Thomas Aquinas, I had the conclusion before I started. If I believed otherwise I would have never left my safe and comfortable home in San Francisco.