An aging hippie goes to Oaxaca and invents the Alacrán
I've not just known Shreesh and Neena for many years, but I've shared my home and my adventures with them. From climbing Cerro Aconcagua (22,800 feet) in Argentina, to renting a house in Tuscany for a month to better sample the Italian cuisine, or attempting to reach base-camp of Mount Everest in Nepal – I've tried to keep up with the human dynamo known as The Taskars. Now, I find myself studying Spanish, learning how to grind chocolate for seven different types of Molé and drinking exotic Mezcal in the paradise of Oaxaca, Oaxaca, Mexico.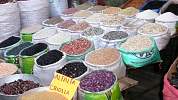 When I first learned of this latest adventure of theirs, I managed to invite myself to one of the few stable points in their auto-trek, the study of Spanish for a month. I had been to Oaxaca 30 years ago as a broke hippie and was enchanted. I recommended the city to the Taskars and kept my fingers crossed that it was as magnificent as I recalled. Oaxaca has exceeded my expectations! It is still a beautiful city with classical Spanish architecture brimming with interesting friendly people and just a wiff of political difficulty that keeps the discos, fat tourists and wet tee shirt contests at bay. Mostly, there aren't very many people like me here. When I go on vacation I don't want to see other Americans on vacation. I want to see something new. Here we see Mexicans and the odd German traveler. The intensive Spanish class turned out to be an excellent way to meet lots of locals whilst we struggled with conjugating the Spanish verb for "to fart" in the preterior anterior. I've learned many useful Spanish words, such as "ornitoringo" (Duck Billed Platypus).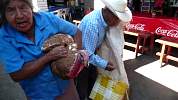 Add to this our extensive culinary research and you have an advanced adventure! We have been sampling "tajate" (a Zapotec corn water drink), cramming "chapolines" down our necks (fried baby grasshoppers – be sure to pull the hairy legs off first, they can get stuck in the throat), specifying exactly how we want our chocolate beans ground, investigating the 150+ varieties of chilies heaped in piles way back in the dank bowels of the 2 acre Marcado de Abasto, sampling exotic varieties of beans, putting ground up worm salt on the rim of our drinks, ordering beer with salsa in it ("Micheladas"), going to the organic market for string queso fresco and of course prowling the dark corners of Oaxaca for the best of the Añejo Mezcal. Then there are the varieties of Molé; which is a vast subject best left to the books that have been written about it.
So, It occurs to me that I should leave you with a receipe for a drink we invented after some empirical research:
The Alacrán
Go to Oaxaca
Get 3 fresh pequeño limes in the 20th of November Market
Obtain a bottle of local Mezcal añejo – (the research for this can be an adventure in itself – be sure to sample many varieties until you find one you like). I recommend Mexcal Beneva or Real Minero Pechuga Añejo – but let your pallet be your guide. Some individuals – I won't mention them here – say it is better to use Oro de Oaxaca which is NOT an añejo.
Wet the rim of a glass with lime juice, coat with gusano salt.
3 shots of Margarita Mix over the rocks
2 shots of Mezcal
Mix and enjoy
The Alacrán – we have discovered – is best consumed with friends who are prepared for a deep discussion of the state of the country/world/universe.
(DISCLAIMER: This drink can cause significant difficulty when attempting to conjugate the Spanish verb "alegrarse" in the imperfecto de subjuntivo!)