Incredible beauty attracts incredible wealth…Mexican culture is shadowed by rich US invetsors.
"To see Baja properly you need to camp on the beaches". Shreesh said this while driving through the beautiful and desolate desert scenery of Baja. I have to agree. Although Mexico Highway 1 is beautifully maintained and the most dangerous things we met were cows on the road, it does not hug the coastline like US highway 1 does. You do catch tantalizing glimpses of the coastline through desert scrubland and cactii reaching up towards the blue skies. And you do occasionally touch towns like Loreto nestled on the shores of the Pacific with amazing coastal scenery.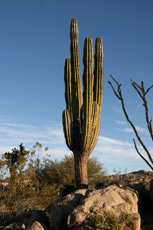 Another reason to camp is financial. Baja prices are US prices. Food, hotels, activities mimic Monterey, Miami Beach, Venice Beach. The "Golden Corridor" of Cabo San Lucas yields little else than gigantic, sprawling condominiums and resorts catering to the rich country up North. Food is mostly blah (except at San Jose del Cabos) and expensive. The beautiful coastal formations at Cabo are surrounded by kitsch such as seen in Fisherman's Wharf. (And if you are a San Franciscan, I can almost see the suppressed shudder of horror).
Seeing the unashamed display of opulence makes me question the style in which we are traveling. We are certainly not backpacking with bare essentials. Cameras, video equipment, computers, music…even a makeshift projector for movies…we have all the comforts that we were used to in San Francisco. Are we being "responsible"?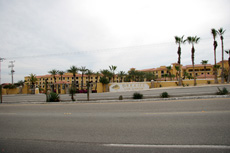 Who is a good tourist anyway? Is it the teva wearing, REI-clothes clad scrubby backpacker that doesn't have too much money to spend, camps on the beach, bathes once a week and eats street food or the well healed jetsetter who can get away for a week to spend thousands of dollars on accomodations, eats at Charlie Trotter's "C" and spends $20 on Perrier? The latter certainly feeds more into the economy but the cost is Hiltons, Best Westerns and Costco in Cabo. And what do the locals think? Do they think everyone in the US jets around in a posh 200+ ft motorboat, drinking overpriced margeritas in sprawling mansions? I do not know the answer, but somewhere in between the two is a fine line after which the scene gets disturbing.