"Once a bum, always a bum"
Our Book Club from a former life is reading John Steinbeck's "Travels with Charley". We picked up a copy since we will be returning to normal life soon and hope to pick up the threads from where we left off. I do not know whether they chose this book on purpose or whether it is just a coincidence, but no book could be more appropriate to read at this time, to follow the beginning of a journey as we approach the end of ours. Our experiences are fresh in our minds, and it is interesting to compare them with another's. All the quotes in this article are from "Travels with Charley".
"I have found many Readers more interested in what I wear than what I think, more avid to know how I do it than in what I do"
"There is so much more that I am interested in knowing about you", said a family friend, Mrs. Shirole. I am going to skip physical descriptions, you can see what we look like from the photos. Instead I will describe our thoughts and feelings and hopes for this journey. We are not new to travel. A four month long honeymoon imposed on us by a dilatory INS led to a serendipitous discovery, that taking long periods of "time off" from the regular routine is do-able and very enjoyable. Those of you who know us know that when we decide to do something we will do it, and our life so far has been alternating experiences of working jobs and time spent traveling.
"I had not heard the speech of America, seen the grass and the trees and sewage, seen its hills and water, its color and quality of light"
Why do we travel? Curiosity about new and strange lands and a desire to see famous sights is, of course, a factor. But the driving argument for us is the opportunity to learn something new, the challenge of doing something different from the routine. Thus far our vacations have had some sort of challenge built into them, either physical or mental. And negotiating strange lands puts you at more of a disadvantage than your own, with the opportunity to learn things you would never have thought of. I felt that the few days of vacation that the jobs here offer was not enough, we had to travel for longer so that we could see life with new eyes. So we take long periods of time off, open to and hoping for the possibility of that exciting change that will make us …what? More insightful? Wiser?
"I wanted a three-quarter-ton pick-up truck, capable of going anywhere under possibly rigorous conditions, and on this truck I wanted a little house built like the cabin of a small boat."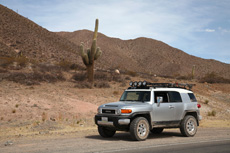 We debated at length about the type of motorized travel we wanted and settled for staying in hotels. For us the economies worked out better that way (this is very personal and differs from person to person depending on the amount of discomfort they are willing to put up with). I spent many hours agonizing and feeling guilty about this, until we discovered smaller, owner run hotels. These we found to be much more characterful, giving us a chance to listen to unique stories and participate in wholly different experiences. Hostels are not so good for "mixing with the natives", although they are wonderful for meeting up with other travelers, and I suspect campsites are the same experience in most countries. Once we opened our eyes to this possibility, listening to and understanding local life experiences became much more interesting than seeing some of the most celebrated sites.
"Two or more people disturb the ecologic complex of an area".
People travel differently. the most common is single, couples or in groups. We have found that it is difficult to interact with other travelers or locals if you are in a group, almost impossible in an organized tour. Even a few friends traveling will deter any outreach of friendship from strangers. I prefer to have at least one other person though, someone to mull over and discuss new experiences, to find angles and viewpoints not immediately obvious to me."
"I took far too many things, but I didn't know what I would find".
Traveling in a car allows you to take a load of stuff. In addition to clothes, we took camping and backpacking gear, fluids and spares for the car, recovery gear in case we got stuck, books and finally, a load of electronic gear. Some people can travel light, some can't. We fit in the latter category, we like to have the appropriate tools to indulge our interests. Travel for us is not a way to isolate ourselves from our non-traveling life, but to share new experiences with it.
"In long-range planning for a trip, there is a private conviction that it won't happen".
The trip took a lot of preparation, from learning about cars, medicine and a new language. We were complete novices at all of these, and we attacked each one of them with varying degrees of enjoyment (learning Spanish was by far the easiest and the most interesting) but with the same degree of determination to finish. I never had any serious doubts that the trip would happen. Maybe the reason was that we had planned for and desired this trip for so long that canceling it was not an option.
"There's a gentility on the road. A direct or personal question is out of bounds".
We learnt an important thing from the talkative and friendly Argentinians. This was that people love to talk, especially to strangers. Maybe foreigners are perceived as non threatening, maybe it is the fact that visitors are in a country only temporarily, or maybe they are perceived to be less judgmental, free from local customs and politics. We found that a few curious moments could lead to very interesting discussions, and could made our travels richer.
"Many a trip continues long after movement in time and space have ceased".
We have learnt a lot on this trip. We were able to indulge in our photographic hobbies, learn to make videos, study ancient cultures and see natural wonders. But the big change this trip has wrought in us is to scratch beneath the surface, to ask questions and dig deeper. I fervently hope that this change remains with us, giving us a new perspective on life and events, making our lives that much fuller.