Detritus left behind – The sun never sets over Europe – A border dispute – Malignancy? (Map this!)
When we travel we leave bits and pieces of ourselves in the places we visit. The services we demand, the cappuccini, the pizza, the hamburgers, all leave behind a trail, a detritus of wants and desires that shape the business and culture of our destination. Larger cities can absorb this waste better than small towns where the proliferation of T-Shirt shops, hamburger stands, and souvenir stalls can lead to toxicity.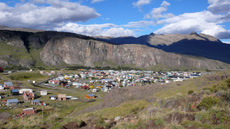 The other day a traveler from Barcelona mentioned how at times the city of Valparaíso feels almost "European". "No, no, please don't say that", I said, my voice rising, "I don't want Valparaíso to be European, if I want European I would go to Europe. I want Valparaiso to uniquely and distinctively Chilean, like it is today." Even now the thought that Valparaíso can become European seems repugnant and obscene – I would greatly prefer the dirty Valparaiso of today with its bad plumbing, piles of trash, and dead cats to a sanitized Euro-disney ville with tsochke shops around every corner and clean fire code compliant buildings painted in authorized shades of pastel.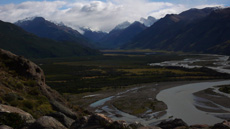 Argentina and Chile share the third longest international border in the world. As is to be expected with such close contact between two groups of humans there has been considerable dispute over this line, especially in the Patagonian region. Both countries rushed to build settlements in a territory that they claimed as "theirs". The founding of El Chaltén (not to be confused with El Chaiten in Chile) was a result of the dispute with Chile over the Lago del Desierto area and a few hardy souls were convinced to move to the remote area to show the Argentine flag. With its appearance on the international trekking circuit it has been growing by fits and starts. Building regulations, once lax, have now been strengthened.
El Chaltén is indisputably located in one of the most scenic locations of any small town I have seen on this trip. If the weather is good, which it almost never is, one would be surrounded with high granite walls. Fitz-Roy, Poincenot, and Cerro Torre are names of legend in the climbing community. But along with the legends come hordes of Euro-North American trekkers interested in little else other than being able to say "I saw Fitz-Roy". The five(!) pizza parlors serving mediocre pizza with a layer of dried oregano an inch thick do roaring business while the local empanada shop has many empty tables. Spanish is rarely heard with most conversations being held in French, German or English. Deep inside the Argentinian patagonia is a small Euro-North American tumor. Let's hope its not malignant!
---
You can also read At the glaciers, Los Glaciares National Park (2/2), part two of this series
---