Mi Encanta – Colonial Mansions – A performance of Carmen – Cotopaxi (Map this!)
"Mi encanta Quito" is my standard response to anyone who asks me how I feel about Quito. A sprawling metropolis of almost two million people, Quito has a spectacular setting in a bowl in the Andes. Around every corner there is a new vista of the mountains – Pichincha Volcano here, Cotopaxi there, unknown spiky jagged crags, and multicolored farms hugging the mountainsides. Every day here is a delight and every morning is pregnant with wonders yet to be discovered. So what is it that I like about this place?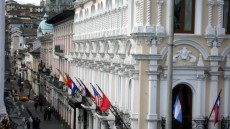 First and foremost Quito is beautiful. Graceful and ornate colonial architecture complements the beauty of the natural setting. Our hotel is in one of those colonial buildings and has ornate twenty foot ceilings with floor to ceiling double doors that open out onto a balcony. In the evenings we fling open the doors and take in the view of towering Pichincha, if only for an instant. Then there is the mountain climate at the altitude of over nine thousand feet, where the mornings are crisp and chilly and the days are pleasantly warm and dry. The climate alone makes the spirit soar and induces a near constant state of euphoria. Then there are the kind and generous people, like Marcos Lema of the Casa del Sol, who stepped in and allowed us to park our car at his house when all the parking garages were full.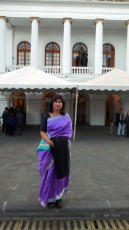 The other night we went to see a performance of Carmen, staged a few blocks away at the Teatro Sucre. The quality of the mostly young singers was very good – the American mezzo cast as Carmen had a sultry amber voice that captivated me and the Ecuadorean tenor who played Don Jose had great projection and voice acting. The only exception was chap who sang Escamillo and muddled through the "Torreador" aria. The special evening was topped off with an act of kindness as a fellow opera goer took pity on us as we desperately tried to find a post-performance taxi and called us a cab.
Just outside the city Andean challenges await, such as the cone of strato volcano Cotopaxi, which is visible from the southern parts of Quito.
Its summit rises over 19,000 feet and the glaciated flanks endow it with majestic beauty. The countryside around it had magnificent pastoral beauty and high altitude Paramo but the hike up to the refugio was rather ugly! The trail took us through a fold in the mountain with mostly views of scree and talus fields and located at 15,800 feet was the refugio where we enjoyed a hot coco as we gasped for breath in the thin air. That night our elegant hotel room seemed more cozy and welcoming than ever.
For more pictures of Quito click here