My favorite passtime – Why I liked "Sacred Games"
I come from a family of readers. From my grandparents to my parents, we all like nothing better than sitting with a good book. Recently some really good ones came my way. "Sacred Games" by Vikram Chandra. "The Reluctant Fundamentalist" by Mohsin Hamid. The brilliant Nigerian writer Chinua Achebe.
People (and websites) will sometimes ask "What's your favorite book?" or "Who is your favorite author?" I have trouble answering this question. I often wonder, "What makes a good book"? Why, for example, do I prefer Peter Mattieson's travel writing to V.S. Naipaul's? Why was I puzzled by the accolades given to Jonathan Franzen's "Corrections" but loved Vikram Chandra's "Scared Games"? Why, above all, do I devour the Harry Potter series, which is neither literature nor adult? Some authors transcend these kind of questions, like Jorge Luis Borges. But others, I suspect, touch a chord in us that makes us identify with their writing. Their books resonate half formed thoughts in our minds, or feel oddly familiar like comfort food. Or, we generally agree with their outlook.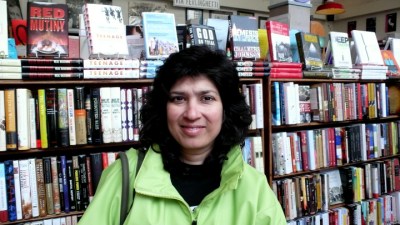 My grandfather used to say that he would rather be an armchair traveler and visit exotic places in a good book. Although he was talking mainly about the National Geographic magazine (where arguably the pictures are better than the real thing), I feel the opposite about books. Familiarity with a place and its rhythms endears a good book to me. This is why I loved "Sacred Games" that brought back a slice of Bombay. I could almost hear the Nigerians' sing song African English in Chinua Achebe's books, but I could not identify with V.S. Naipaul's cynical style since I am inherently optimistic. And maybe Harry Potter brings back my days in primary school when Enid Blyton's gnomes and goblins were my constant companions.