Finding joy away from the coast.
It is difficult to follow a Fred Gault post but I'll give it my best. Though Fred may complain about verb conjugations in Spanish class, we all know that he went into class on the first day, raised his hand and asked,"How do you say 'fart' in Spanish?", thus setting the tone for this academic exercise.
I got to Oaxaca late at night and after arriving at my hotel, I asked the manager where I could get some food. He recommended a place a couple of blocks away. It was Sunday night, the streets were quiet, the air was cool as I found myself in front of Santo Domingo Church, the largest in Oaxaca. It was bathed in a warm glow from the floodlights as I walked across the plaza to the restaurant. I knew right then that I was going to have a good time here.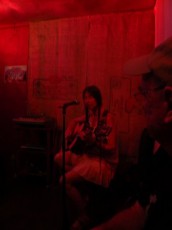 Singin' the Blues
Oaxaca is a beautiful town centered around and old section with a central Zócalo and charming streets of low Spanish style buildings painted in the colors of the region which tend toward blue, red and yellow. The colors are derived from the local plant life except for the red which comes from the cochineal insect that is found living in symbiosis with a certain type succulent plant.
Everywhere you look there is colorful artwork in the streets and also in the museums. In the museum at Santo Domingo, there is a wide range of art from 20th century surrealistic painters to ancient artifacts found at the Monte Alban ruins outside of town. There is also a garden which has examples of the plant life in the state of Oaxaca which they say is the second most biodiverse place in the world, the first being Costa Rica.
Oaxaca has a great cafe scene and great food which is especially nice when you are hanging out with the likes of Neena, Shreesh and Fred, all of whom appreciate a good meal, good beer and good conversation. The weather is here is hot and dry, perfect for the afternoon siesta.
It is distinctly different from coastal Mexico which is becoming more and more like the US. Here you get the feeling that you are experiencing the real Mexico. People here seem to be very happy as there is a strong sense of community and family life. Speaking at least a bit of Spanish is required here since very few people speak English even at the hotels which is great if you are studying Spanish. After four weeks of intensive study, mis compadres are speaking damn good Spanish and my own is much improved.
Over the weekend we took a couple of road trips in Shreesh and Neena's well-equipped car. We went to see the ruins of Monte Alban which was occupied by both the Zapotecs and Mixtecs from about 500BC-800AD. It is a spectacular ruin situated on a promontory with great views of the surrounding towns. It provided a good point of contrast from Machu Picchu which I visited in October both in terms of its size and structure as well as the sophistication of the respective societies that lived there. It was quite hot so we headed for the cafe for food and beers. The adjoining small museum was excellent and provided Shreesh an opportunity to learn Zapotec symbology.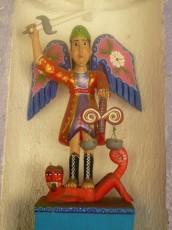 The next day, we proceeded out of town to visit Teotitlan, a small village known for their wool rugs. The rugs were nice but the prices were high. However, we did have an opportunity to talk to the locals and even provide entertainment for them as Fred would offer 500 pesos for a 7000 peso rug. He even did the "pull out the wallet and show the meager supply of cash" trick but they didn't go for it. A short stop at a village (with a big ass tree) for nieves (ice cream) and beer was completed before heading to Alegria de Angelis, an organic restaurant in the village of Etla. There, we had a multi-course meal of fresh meat and vegetables prepared by an affable Italian named Sandro. Fred went swimming and was bitten by man eating coi in the frigid water. We headed home in the dark, fat and happy.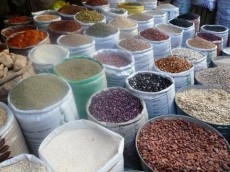 On my last day in town, I took a two hour Spanish class. It was more like a two hour conversation with a very nice local named Miguel. It turns out that he spent some time on the Green Tortoise bus (Tortuga Verde) going to Oregon. We proceeded to discuss illegal immigration, Mexican politics, women, and life in Oaxaca, all in Spanish.
I'm blessed to have such friends and to be able to join them in such a beautiful place during their truly epic journey. Bien viaje, amigos!