Chiloé – Working for penguins – Heating water – Wooden churches – Tranquility. (Map this!)
I first heard of Chiloé in 2001, when we were in Chile visiting the Torres del Paine National Park. The more I heard about it, the more intrigued I became; Chiloé: the island of wooden churches, of a mix of the native Mapuche traditions and that of immigrant germanic ones, of self imposed isolation (they oppose the building of a bridge linking Chiloé to the mainland), of fabulously fresh seafood. When our friend Vinay Yadappanavar decided to visit us for a few days, we thought it would be nice to spend them in Chiloé.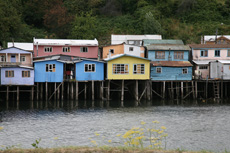 We took the ferry over and checked into a lovely little hotel in Ancud, the first major town after the ferry crossing. The beach from where the tour services operate to visit penguins is an unremarkable stretch of sand with some tumbledown shacks and a couple of restaurants. It was swarming with horseflies. Our English guide was a schoolteacher from Germany who was volunteering with an organization to help the penguins by championing the tour operators. Her job was to distribute information in German and English. I always feel admiration for people who leave the comfort of their home to live in uncomfortable surroundings. What could be her motivation for doing this?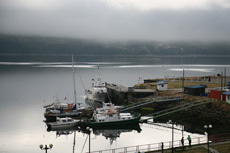 At Castro we decided to stay at the pink colored "Unicornio Azul". Vinay thinks it is an inside joke as they also own the yellow colored "Galeon Azul" in Ancud. ("Azul" means "blue" in Spanish). They offered us half rate until their heating was fixed. This meant cold showers. We used our water heater (that we normally use to make chimarrão) to heat up water in a washtub thoughtfully provided by the hotel. The evening was beautiful; the bay was tinged shades of deep blue changing to purple and pink during sunset. High up above among the trees surrounding the hotel ibises were making a racket. In this lovely setting all that existed was the wonderful Chilean Carmenere that we were enjoying.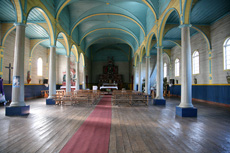 Wooden churches are everywhere. Except that over time restoration has brought metal nails that can easily be spotted. We labeled the church in Castro the "party church" as they were broadcasting upbeat songs on a loudspeaker and the mood was not subdued as in most churches. After a sinuous road through the mountains, we found the little visited church in Rillán. Less pretentious than the ones in Castro, Chonchi and Achao, it was standing over a deserted plaza where a few teenagers were loitering. After disturbing a couple of neighbors we located the caretaker of the church, a petite, white haired woman who had terrible bruise marks on her upper lip. (What was up with that?) "We do not have a priest", she said, so the church is locked up. "A couple of years ago, he left". Where do the townspeople go to church, I wonder?
On the last day we decided to go to Cucao, inspite of the presence of horseflies. A beautiful, desolate place on the Pacific coast which we reached after following the twists and turns around Lago Huillinco. A few houses were scattered around and there was no sign of a tourist office. After driving what seemed like a few hundred meters, you found yourself on the beach among the sandunes and the huge waves of the Pacific Ocean. This is what I had thought all of Chiloé would be like. We stayed at a "yellow house" with no signs that was a pensione run by a local. She also sold homemade jams and woolens. "In winter, I just stay in and knit the wool that I get from my sheep over there", she indicated the sheep peacefully grazing outside. "It is muy tranquillo". I imagine it is.
| | |
| --- | --- |
| | |
| | |
For its bicentennial in 2010, the Chilean government wanted to build a bridge to connect the island to the mainland. Many Chilotes are against this as easier access to the island, they feel, would cause them to lose more of their culture and traditions. Contrasting tourist packed Castro that bustles with activity with quiet, serene Cucao, I can see their point.
For a related post on the famous "curanto" of Chiloé, click here.
For a fascinating account of Chiloé, you can download Ovidio Lagos' travelogue.