Gardens of the World – A Walk in the Park with LensBaby.(Map this!)
In our quest for the outdoors, we often ignore beauty in our own backyard. The San Francisco Bay Area is so full of picturesque hikes that we rarely visit the beautiful parks that the city offers – Golden Gate Park with its Japanese Tea Garden, the Arboretum and the Conservatory and the small but pretty Yerba Buena Gardens set amongst the busy downtown cityscape.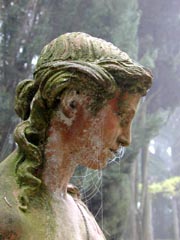 Almost everywhere we try to bring the beauty of nature back into an urban environment by creating gardens. Since ancient times, gardens have been intricately woven into all aspects of human activity – to beautify and "naturalize" our homes, to create a spiritual sanctuary for meditation, to link this world to the beyond in mausoleums. Our fascination with nature has led to the neat geometric patterns of the formal European gardens, the traditional beauty of the Japanese or the amazing aesthetic of the Persians best seen in the Taj Mahal. New ways of expression continue to be invented as seen in the famous gardens built out of refuse in Chandigarh, India by the genius gardener Nek Chand.
These thoughts came to mind during our frequent visits to the Golden Gate Park to test our latest acquisitions, the LensBaby 3G and the Sigma 180mm macro lens. I had, as usual, rolled my eyes at yet another one of Shreesh's time consuming and expensive dreams when he sent me a link to an extremely seductive photography site Juza Nature Photography. While contemplating this amazing (and geeky) site, I realized that this would change the way we view photography. It will no longer be a manic struggle to extract lenses during a five minute rest stop on a hike to capture memories for later reminiscences. It will instead, be the reason for the hike itself. As we sat sipping tea in the Japanese gardens in Golden Gate park I felt content to be free of the need to reach a "destination"; to have all the time in the world to photograph the beauty surrounding me.
Our experimentation with the Lensbaby 3G's macro feature (below).