Expectations and choice in our life – Life in Caye Caulker – Attempts at snorkeling. (Map this!)
Every moment of this trip has been defined by expectations and choice. We set out with a set of expectations about the places we are about to visit – moulded by guidebooks, reports from friends, travel programs on TV, memories from childhood. Every day we are also forced to choose which places to visit, which ones to drop, which also leads to the expectation of having made the right choice.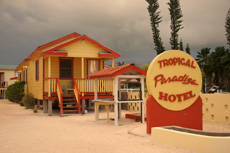 We expected to go snorkeling in Playa del Carmen in the reef off the coast of Mexico which (along with Belize and Honduras) forms the second largest coral reef in the world. When the weather deteriorated we set off for Belize, hoping for better weather there. Caye Caulker in Belize was much better than we expect beach towns to be. A small island south of the big tourist destination of San Pedro, it still maintains some of the backpacker's aura. Places to stay are clapboard hotels (although more expensive condos and suites are already showing up on the scene), food is amazingly cosmopolitan for such a small place, and most importantly, there are no cars. Tourists walk around barefoot, locals use bicycles and if you want a taxi, you have to hail a golf cart.
Our hotel was right beside a cemetery and on the beach. On a sunrise walk on the pier, I saw a stingray lazily floating around in the shallow waters. Life in Caye Caulker consisted of visiting the local bakery for sausage and ham and cheese turnovers, walking along the beach amongst coconut palms and Caribbean music, dining at funky places serving the staple of rick and beans and chicken stew or some pretty sophisticated entrees like crab cakes. Belize gave us a chance to hear some English among the surrounding ocean of Spanish countries and add a Caribbean flavor to the vacation. Not to mention the wonderful snorkeling and sailing opportunities.
It was not to be. After a half day snorkeling among stingray and coral fish, the weather turned for the worse, becoming actually cold. So we had to choose, move on or stay and weather the storm? A look at the weather forecast convinced us to abort our Caribbean adventure and move on, armed with the expectation of picking up the threads again in Honduras.
Expectations and choice – we spend a lot of time agonizing about making the right choices so that our expectations are fulfilled. In our routine lives, we get some relief from this just by the nature of it. On vacation, we are continuously trying to choose the "right" fork in the myriad of options surrounding us.