The birth of a bird watcher. On eating Shredded Wheat. Sunrises and loud forest canopies. (Map this!)
For additional pictures of Tikal click here.
I have always been interested in wildlife but I was never much of a bird watcher. This changed when Neena came into my life, since she had been interested in birds as a child and had been on numerous bird watching trips. When you meet someone there is always a possibility that what they do or say might change you and when you love someone that possibility is even greater. My cousin Swati gamely tried to eat Shredded Wheat because her boyfriend (now husband) adored it. Love makes us do strange things, beautiful things.
Swati tried for a week to choke down shredded wheat until she finally confessed that she couldn't stomach it (It's an acquired taste – I've always liked it). At first squinting at those tiny things through binoculars was a bit tedious, but that is what my beloved liked so I must like it too. Then, slowly, a transformation took place. The deep green and yellow of a Bee-eater, the unfeasibly large beak and spotted patterns of the Pied Kingfisher, and the strange head-dress of the Hoopoe took a hold of me. Just as Neena had captured my heart the birds of South India cast bewitching spells and had me entranced.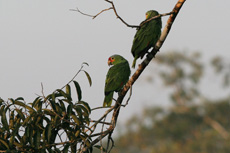 Tikal is a bird watcher's paradise. Atmospheric ruined temples and green jungles are what brought us to Tikal but it was the birds that kept our interest. Getting up at 4:00AM we scaled Temple IV to see the sunrise and as the rays of our star warmed the jungle it erupted into cries and calls of birds. On a tree covered with bromeliads we counted at least five cereal box Toucans. Red Lored parrots flew in and out of the canopy, with the cacophony that is common to all parrots.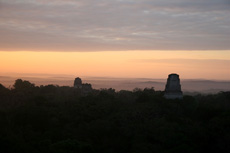 We met some travel photographers at Tikal who told us that nature photography was a quiet solitary pursuit, hiding in blind or a tree for hours until the right animal comes around at the right time. I was reminded of this when we climbed into a rickety tree platform out in the jungle where we sat for hours scanning the surrounding jungle for any life. Sitting in one spot, the birds slowly revealed themselves – a Hooded Oriole here, a lovely Cotinga there. The highlight was when Neena spotted a Collared Aracari feeding in the trees, along with another large bird which flew off before we could identify it. How fitting is that – ending the with a tale of the one that got away?